Florida School District Lacks Equal Access to Best Teachers
Stanford researchers have found that students in Miami-Dade County Public Schools do not have equal access to experienced teachers, which may contribute to teacher turnover and achievement gaps nationwide.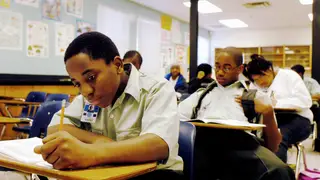 Less-experienced teachers and teachers with degrees from less-competitive colleges are often assigned to teach lower-achieving students in Miami-Dade Public Schools.
Past research has shown that students' academic achievement depends on the quality of their teachers, however not all students have equal access to teachers with experience. This then leads to an achievement gap largely affecting students of color nationwide.
Miami-Dade County has the fourth largest public school district in the country and serves the second largest population of minority students in the country. Sixty-two percent of the district's students were of Hispanic origin (of any race) and 25 percent Black as of 2012, according to the district's data.
"Our findings are novel because they address the assignment of teachers to classes within schools. We cannot assume that teacher sorting stops at the school doors."
Using extensive data from Miami-Dade, the authors compared the average achievement of teachers' students in the year before the students were assigned to them. They discovered that certain teachers — those with less experience, those from less-competitive colleges, female teachers, and Black and Hispanic teachers — are more likely to work with lower-achieving students than are other teachers in the same school.
They found these patterns at both the elementary and middle/high school levels.
According to the researchers, teachers who have been at a school for a long time may be able to influence the assignment process in order to secure their preferred classes — for instance, classes with higher-achieving students. The study found that teachers with 10 or more years of experience, as well as teachers who have held leadership positions, are assigned higher-achieving students, on average.
Assigning lower-achieving students to inexperienced teachers could have significant repercussions. According to the researchers, it could increase turnover among new teachers, since novice teachers are more likely to quit when assigned more low-achieving students.
In addition, it could exacerbate within-school achievement gaps — for example, the Black-white gap. Since they are lower-achieving on average, minority and poor students are assigned to less-experienced teachers more often than white and non-poor students. Less-experienced teachers tend to be less effective, so this pattern is likely to reinforce the relationships between race and achievement and poverty and achievement, the researchers said.
Read the full story here. 
Researchers must do further analysis to find out if this pattern exists within urban public school districts around the country.
BET National News - Keep up to date with breaking news stories from around the nation, including headlines from the hip hop and entertainment world. Click here to subscribe to our newsletter. 
 (Photo: Micah Walter/Getty Images)