Rae Sremmurd's Captain America Comic Book Cover Unveiled
Comic features Falcon, the first-ever Black variation of the character.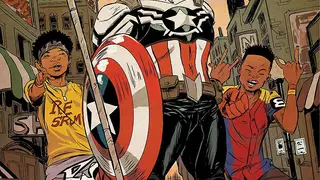 (Photo: Marvel Entertainment)
After recently making headlines for casting 42 actor Chadwick Boseman as Black Panther in a whopping five-picture deal, Marvel has released one of the covers of their All-New Captain America series, featuring the first-ever Black Captain America, Falcon.
Making its debut via the official Captain America Twitter page, the cover sees Falcon flanked by duo and protestors of the No Flex Zone Swae Lee and Slim Jimmy, better known as Rae Sremmurd. The duo has been featured on past comic book covers alongside Eminem and Onyx.
Captain America, himself, tweeted on Wednesday, "Dropping today from @Interscope: the @RaeSremmurd Variant Comic Cover of @Marvel's "All-New Captain America" #1!"
The issue can be purchased for a whopping $170 — after a 15 percent discount — over at Midtown Comics.