Watch Venus Williams' Epic Mic Drop On Dealing With The Press After Naomi Osaka's Decision
Williams commented after the 23-year-old chose to withdraw from the French Open.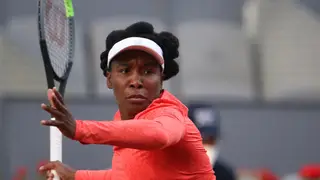 "For me personally how I deal with it was that I know every single person asking me a question can't play as well as I can and never will," Williams said after her first-round loss to Russia's Ekaterina Alexandrova. "So no matter what you say or what you write, you'll never light a candle to me.
"That's how I deal with it. But each person deals with it differently," she added.
Prior to the highly anticipated French Open, Osaka announced that she would not participate in press interviews to preserve her mental health. She was fined $15,000 on Sunday (May 30) for not meeting the media interview requirements; the athlete also picked up her first win earlier in the day.  
She posted a message on Instagram which explained to her 2.3 million followers her decision to withdraw from the French Open.  
"The best thing for the tournament, the other players and my well-being is that I withdraw so that everyone can get back to focusing on the tennis going on in Paris," she wrote in the IG post. "I never wanted to be a distraction and I accept that my timing was not ideal and my message could have been clearer. More importantly, I would never trivialize mental health or use the term lightly." 
Serena Williams also came to her defense on May 31 during a post-match news conference, saying, "I feel for Naomi. Not everyone is the same. I'm thick. Other people are thin. Everyone is different and everyone handles things differently. You just have to let her handle it the way she wants to and the best way she thinks she can."
Osaka is currently the world's No. 2 ranked women's singles tennis player. She won in the first round of the French Open, defeating Romania's Patricia Maria Tig.