Morning Mindset with Tai Debuts 'The Hike & Experience' During BET Awards 2023 Weekend
The four-hour L.A.based wellness event was powered by lululemon.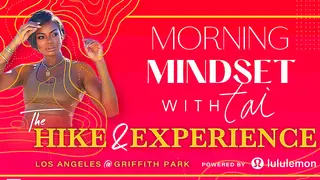 Familiar with partying with a purpose? Well, try hiking with a purpose.
After experiencing a heartbreaking death that led to grief and a transitioning relationship, media personality Tai Beauchamp found solace in the unfamiliar, which would become one of her greatest achievements. 
The Brown Girl Jane co-founder launched the "Morning Mindset with Tai Experience '' in 2020, a free monthly event that invites women to join her on an interactive, transformative hiking experience that's documented on Instagram Live. Some 3,000 women later, Beauchamp believes she is accomplishing the mission she first intended when she began nearly three years ago: to empower women everywhere and foster a community through sisterhood.
"My goal and my prayer is that we can take this to women where they are. I want everyone to have access," said Beauchamp.
After taking her first steps into this new hiking journey, Beauchamp received a soul-stirring word that resonated with her core. "Hiking spoke to my heart and my spirit—who God was calling me to be. It spoke to evolution. It spoke to elevation, literally."
As "Morning Mindset with Tai" takes new heights, Beauchamp continues to embrace the backbone of her decision to invite others to take this walk with her. "Our healing comes in community, because it's not enough for me to be well and not help my sister or my brother. So this journey is our collective journey. Even as we go on these individual journeys, it really is about how you bring other people along."
In celebration of this year's BET Awards, "Morning Mindset with Tai" has partnered with athletic apparel retailer lululemon and BET to command the steep hills of L.A.'s famed Griffith Park for a day of movement, meditation, and renewal. Of lululemon's generous partnership, Beauchamp says, "I'm just honored that people see the value in what this means because this really is just the beginning."
Beauchamp believes the BET Awards weekend was the perfect opportunity to host a hike. Several events leading up to Sunday's (June 25) show, highlight the importance of prioritizing health and wellness, especially for Black women.
"We celebrate our culture, we celebrate entertainment, and we celebrate our shine, but we can't shine if we're not well."
BET.com's Falen Hardge  was there to share in the experience. Here's a play-by-play of how the hike unfolded:
Let's Get Started! 8:30 a.m.–9:30 a.m. PST
It's a Saturday morning in Los Angeles, and the city is enjoying a cloud free day during our June gloom. Women (and a sprinkle of men) of all ages, ethnicities, and races pour into the park. The registration line is long, but reasonable. 
It's finally my turn to check-in and retrieve my wristband. I put my yoga mat away and headed towards the vendors as hip hop and R&B hits echo throughout the space. There's a table of dope "Morning Mindset with Tai" merch including an array of vibrant  long sleeve t-shirts, caps, water bottles and hoodies. Close by is another vendor, AG1, a wellness brand that supports gut health. Lastly, there's lululemon, who is giving away free swag bags. They also had a perfectly produced photo area that was hands down a selfie lover's paradise. As hikers continue to arrive, Tai meets and greets them with warm hugs and an infectious smile.
Put One Foot Forward! 9:30 a.m.–10:30 a.m. PST
DJ Shai didn't come to play! She is sporting Barbie pink workout gear and a blonde buzz cut. She gets on the mic and energetically tells the crowd to hurry to the large stage area for a pre-workout before the hike. The sun is beaming, and each woman seems to be radiating joy. 
As the hikers gather on the lawn, a loud cheer fills the air as Tai takes the stage. She is glowing in an orange and purple set while rocking long Bohemian knotless braids. Yea, she's that girl. She welcomes the crowd and reflects on her first experience hiking years ago, saying it's a metaphor for life by "putting one foot in front of the other." Tai encourages the hikers to embrace their community by introducing themselves to one another. She ends the speech by giving gratitude to God, her team, and her business partners.
Next, singer Bri The Lady leads us in a series of fun vocal exercises as we tune up to sing an a cappella version of "Lift Every Voice and Sing."
Tai returns to the stage and introduces Delena Zimmerman, a licensed clinical therapist from the Boris L. Henson Foundation founded by Taraji P. Henson, for a two-minute breathwork session where she promotes positive thinking from within.
"Choose joy. It is your birthright," says Zimmerman. As she continues to bolster the crowd, the silence is compelling as each woman inhales and exhales.
Then Tai introduces the audience to Trap Yoga Bae, who is lit and bursting with bold affirmations. While asking the crowd to take up space and "bust it wide open," Trap Yoga Bae leads us into an exercise by prompting the crowd to reflect on the last thing we accomplished. We are then told to stand feet apart with our hands stretched out.
This session is followed by a 15-minute low-intensity workout led by lululemon ambassador and professional dancer Deja Riley. Everybody was popping it, dropping it, body rolling, twerking, and doing the eclectic slide at whatever level they were comfortable. 
Ascend to the Top! 10:45 a.m. –11:30 a.m. PST
The 1.5-mile trek begins, and I am ready! We walk across the street and into a unit. Everyone ascends the mountain at their own pace while taking in the views of LA's picturesque skyline. With each step forward, the day's vision becomes clearer. We are in this together.
Let Your Light Shine! 11:30 a.m.–12:30 p.m. PST
DJ Trauma had Afrobeats bumping through the speakers. Volunteers cheer each participant on as they make it to the top. Once women arrive, everyone starts doing the Jerusalema dance challenge. All in CO-OR-DIN-A-TION  as Queen B would say!
Moments later, Tai takes center stage to thank and acknowledge the volunteers.
Then, we are organized into break-out groups, or "sister circles," according to particular wristband colors. During this exercise, Tai and Jovian Zayne, challenge each hiker to try to answer these questions: "How do you let your light shine?" and "What do you need to do it?"
And the Winner Is! 12:20 p.m.–1:15 p.m. PST
Here we go, descending the mountain. One-by-one, each hiker successfully makes it to the bottom. Everyone retrieves their yoga mat, then we sprawl onto the lawn with LaToya White for a 5-minute cool down session of stretching. Immediately following that, Victory Jones leads us in a 20-minute sound bath session.
As the event comes to a close, Tai takes the stage at 1:45 p.m. to offer her final remarks, and announce the name of the lucky winner of two free tickets to the BET Awards. All in all, today was a good day.