Black And White High School Students Punished For A Mock 'Slave Auction'
The video was posted on social media.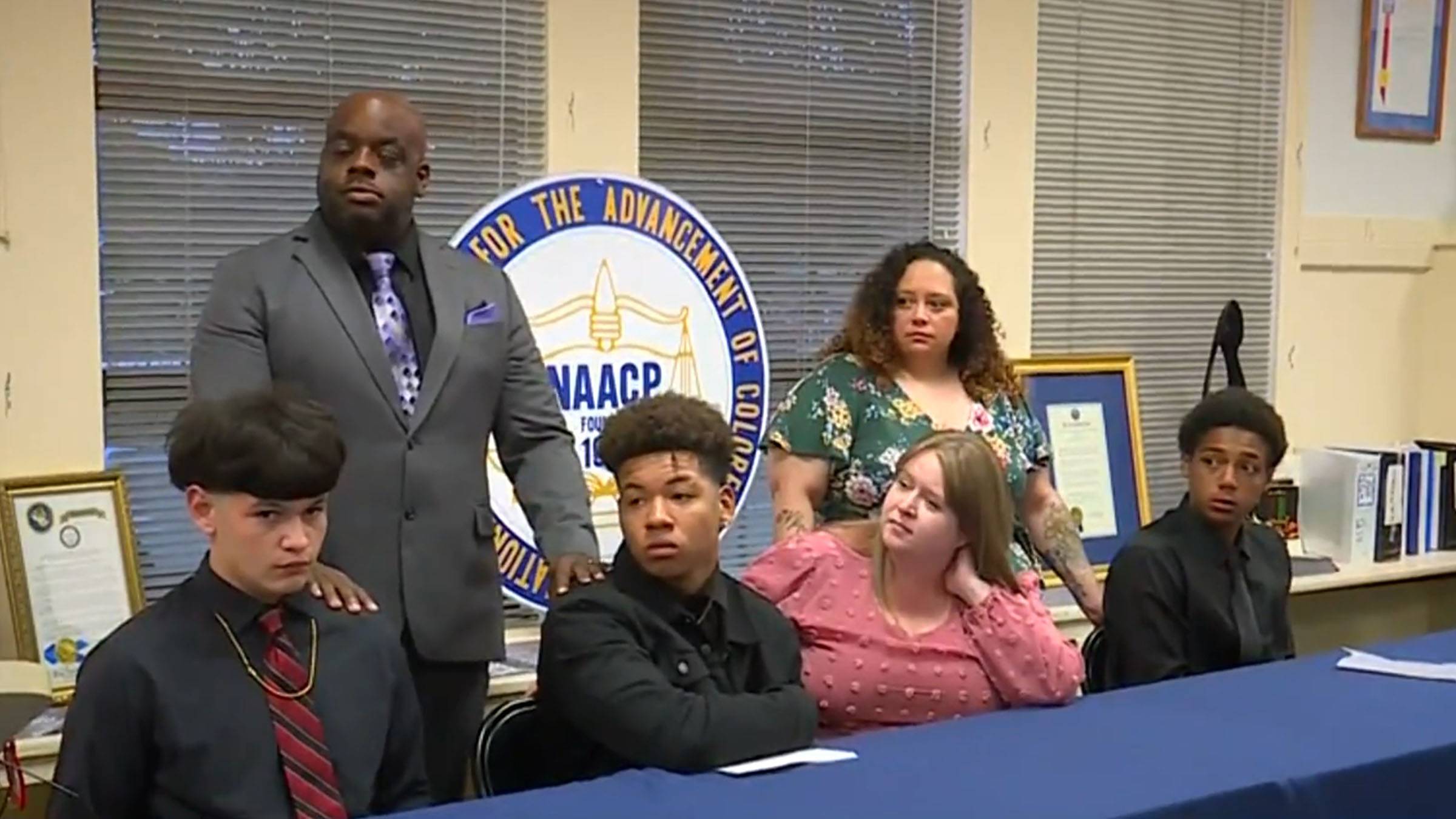 Students at River Valley High School in Yuba City, California, have been reprimanded for participating in a mock "slave auction" that was posted on social media.
According to CNN, the viral video showed white members of River Valley High School's football "selling" their Black teammates. The disturbing video had Black students with belts around their neck, made to look as if they were to be hanged. The Black students were also wearing just their underwear.
CBS News reports an Oct. 17 press conference with the Greater Sacramento NAACP chapter included three students who participated in the video. They received three-day suspensions, and their parents said they were removed from the football team. Adrian, one of the Black students, said in a written statement, "I did not want to do it but looking back I wish I had done more to stop it. When the video was made I was not feeling good about it and I froze. I wanted to get it over with so I could get to practice."
Marcos, a junior, also added, "Part of me knew it was wrong when it was happening, and I didn't have the courage to stop myself or my teammates and I wish I would have. I am here today because I want people to know I am sorry. I apologize to anyone I have hurt or offended."
The Greater Sacramento NAACP President Betty Williams claimed that white students received lighter punishments than their Black classmates. It's unclear what the punishments were for the white students. Williams explained, "We do not believe the approach to prioritize punishment over education was most prudent. We also believe the punishment was not equitable in their distribution."
Late last month, when the video went viral, Yuba City Unified School District Superintendent Doreen Osumi called the video  "unacceptable" and "deeply offensive."
"Re-enacting a slave sale as a prank tells us that we have a great deal of work to do with our students so they can distinguish between intent and impact," the superintendent wrote, according to CNN. "They may have thought this skit was funny, but it is not; it is unacceptable and requires us to look honestly and deeply at issues of systemic racism."
Osumi added, "At this time, the District and site administration are working in earnest to identify lessons and programs to help our student body learn from this situation. When students find humor in something that is so deeply offensive, it tells me that we have an opportunity to help them expand their mindset to be more aware, thoughtful and considerate of others."
The high school has canceled the remainder of its football season.