Drake Responds to Backlash About His Private Jet Usage
Many have called out the rapper, with a transportation attorney calling Drake's actions a "prime example of wasteful carbon emissions."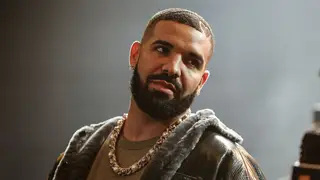 A few celebrities have been facing backlash for using their luxury private jets for brief destination trips. A Twitter account that tracks celebrity flights based on transponders and tail fin markings recently tracked Kylie Jenner's flight from Van Nuys, California to nearby town Camarillo, which was tracked as a 27-minute flight.
This prompted Twitter users to voice how they feel the model has  "absolute disregard for the planet" and a "full time climate criminal".
The account also tracked Drake's recent travel, where he took an 18-minute flight from Hamilton, Ontario to Toronto.
Over the past few weeks, the rapper has used his jet, a Boeing 767, taking a 7-minute flight, 12-minute flight, and 14-minute flight between Toronto and Hamilton.
The "Sticky" rapper took to Instagram to address the noise, saying "nobody takes that flight" and it's used to "move the plans to the airport" where they are stored at.
People didn't take this comment lightly, including Scott Hochberg, a transportation attorney at the Center for Biological Diversity, calling Drake's actions a "prime example of wasteful carbon emissions."
"Drake's living in his own meme if he thinks an empty private jet flight is better than a wasteful one with a celebrity on board," Hochberg said.
"This is a prime example of wasteful carbon emissions leading to even more wasteful carbon emissions. These egregious flights add climate-heating pollution all along their journey, from taxiing on the runway to the ground vehicles that service the aircraft. Ultra-short, non-essential flying only multiplies the journey's climate impacts and we hope celebrities will wake up to the damaging impact of their frivolous flying," he continued.