Interview: Gabrielle Union On How Her Film 'The Inspection' Mirrors Her Real Life When It Comes To Zaya Wade
The film is a semi-autobiographical story based on writer/director Elegance Bratton's time in the military as a gay man.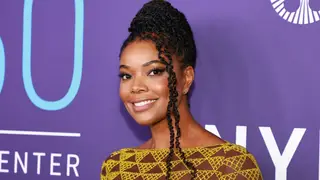 Gabrielle Union transforms into Inez French, a homophobic mother that can't come to terms with her son Ellis French (played by Jeremy Pope) sexual orientation as it conflicts with her strong religious background, in her latest film The Inspection.
In an interview with BET.com, Union, who is also an executive producer for the movie,  says she was moved by the script, but she was not initially prepared to move her talents on screen for the role. The veteran actress later explains some similarities she shared with the overall story as the stepmother to her transgender daughter, Zaya Wade, when comes to familial acceptance of her 15-year-old.
"It was such a powerfully beautifully written script. As a producer and an actor, I have to read a lot of scripts. With the inspection, the words from the jump are beautiful and impactful. I knew I wanted to be a part of it. Now, I wasn't necessarily sold on acting in it but producing it. I knew we had a winner," she said of the A24 film that is directed and written by Elegance Bratton.
Continuing, "They were like, no, we want you to play the mother. And I was like, honestly, what have I ever given off [or] let anyone think that I could play such a hateful person? And Elegance said, 'I know you can do it.' He had a level of confidence in me that no one has ever had. I certainly didn't have it myself. And I took it as a challenge."
The Inspection tells the semi-autobiographical story of Bratton's journey from a homeless 16-year-old, who kicked him out of her home for being gay, to training for the Marine Corps under the guise of the military's "Don't Ask Don't Tell" decree. Pope, who stars as Ellis French, is inspired by Bratton, and Union's character is inspired by his mother in real life, Inell.
And when it comes to themes of The Inspection mirroring Union's real life, she says that, "Just like Elegance has had a deep deep yearning to be seen and loved completely by his mother. My own child has a deep deep yearning and desire to be loved by certain family members where the love is not returned."
"There are certain family members who have not figured out how to not only love Zaya but a number of queer folks in our family completely and without condition. I relate to that as an ongoing challenge, and not just in our family, but across the board," she adds.
"You feel an immediacy in the advocacy and the activism and as a parent, and in this case, as an artist it felt like I had to get this right. There are literal lives and bonds hanging in the balance. I felt an incredible weight and responsibility, not just to my child, but all the kids and young adults who just want to be f**king loved."
The Inspection is now in theaters.