Black & Streaming Vol 1.: What To Watch This Week On BET+ And More!
Films and shows starring Novi Brown, Rhyon Nicole Brown, Kirk Franklin, Naturi Naughton, Jill Scott, and more, need to be on your radar this week.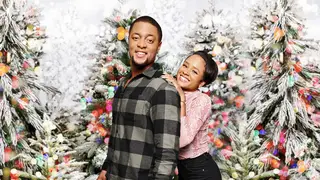 Tons of Black content is rolling out as 20222 is wrapping up and whether you are cozied ready to stream your favorite BET+ shows and movies or binge-watch the latest projects on Prime Video, Lifetime, Netflix Hulu and more! BET.com has you covered on what to tune into and what is coming up that you need to get your watch parties ready for!
For Vol. 1 of our Black and Streaming list, films and shows starring the likes of  Rhyon Nicole Brown, Novi Brown, Will Smith, Kirk Franklin, Naturi Naughton, Jill Scott, Deborah Ayorinde and more, is what need to be on your radar this week.
Rolling Into Christmas

This BET+ original movie follows a globe-trotting influencer who returns home for Christmas and reconnects with her childhood sweetheart as they team up to save their beloved roller rink from foreclosure.

Stars: Rhyon Nicole Brown and Donny Carrington.

Riches

Riches follows the exploits of the stylish, privileged, super-successful Richards family. When the sudden death of Stephen Richards  (played by Hugh Quarshie) shakes a family's world, everything comes crashing down, Two sides of the family are doing anything in their power to take control.

Stars: Deborah Ayorinde, Sarah Niles, CJ Beckford, Adeyinka Akinrinade and more.

The First Wives Club S3

Season 3 of The First Wives Club is underway and the lives of Hazel, Bree and the rest of the gang are still full of crazy and relatable storylines!

Stars: Jill Scott, Michelle Buteau, RonReaco Lee, Mark Tallman, Ryan Michelle Bathe and others.

The First Noelle

After an on-and-off relationship, Noelle and Terrance reunite during the holidays, but Noelle is surprised when Terrance returns home with a new girlfriend of the same name.

Stars: Novi Brown and Todd Anthony

Emancipation

Will Smith plays an escaped enslaved person named Peter, also known as 'Whipped Peter,' because of the whipped markings on his back, which was one of the many catalysts of the abolition movement.

Stars: Will Smith, Charmaine Bingwa, Gilbert Owur, and more.

Kirk Franklin's The Night Before Christmas

Caught in a snowstorm on Christmas Eve, estranged mother and daughter Journee and Nia are forced to camp out inside a church where a handful of also-trapped parishioners and members of the church are reeling from the cancellation of their annual holiday concert. With a little romance, holiday traditions, and music renditions, Kirk Franklin's The Night Before Christmas is definitely a holiday treat.

Stars: Kirk Franklin, Naturi Naughton, Lorea Turner and Luke James.