Migos Rapper Quavo Gifts Girlfriend Saweetie A $75k Snowflake Pendant
Icy Grl and Glacier Boy were made for each other!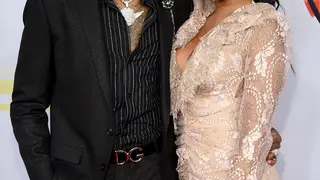 Saweetie definitely lives up to her name as the Icy Grl, and Migos rapper Quavo has surely added to her prestige. 
On January 1, 2019, the Bay Area rapper posted a flick on her Instagram rocking a gorgeous baguette diamond pendant shaped like a snowflake—ice!
TMZ recently reported that the stunning piece was a gift from the "Ice Tray" rapper, which confirms that Saweetie is the "Bad and Boujee" lady in his life. 
Check out the drip below:
If you're wondering how much the snowflake pendant cost, brace yourself, because to get one from Ice Box in Atlanta it will run you about $75,000. That's priced more like a snow bank! 
Quavo also has the pendant engraved with the words, "From Glacier Boy." How Saweet!
What do you think of the ice drip?