Howard Students Continue Tradition of Giving Back During Spring Break
From March 8 to March 14, Howard assigned 350 student volunteers to Haiti, Chicago, Detroit, Baltimore, Memphis, New Orleans and locally in Washington, D.C.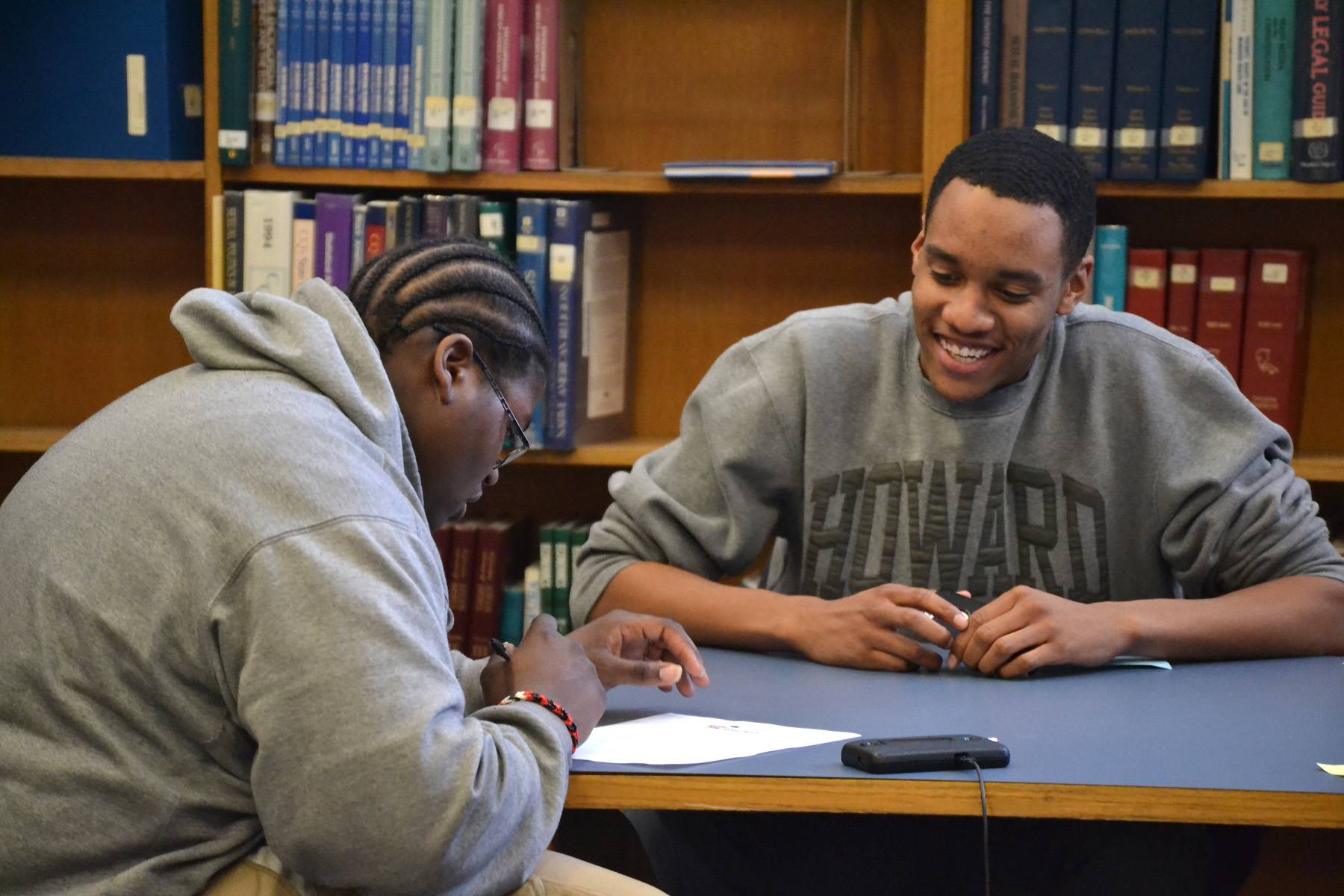 Howard University student Theodore Lee assisting a student at Osborn High School in Detroit. (Photo: Courtesy of Freedom Murphy)
As the final weeks of the spring semester close out, students at Howard University are reminiscing on their transformative spring break memories.
Instead of the typical party-driven retreats, a special group of students spent their off days completing service projects targeting homelessness, illiteracy and health in major U.S. cities and in Haiti through Howard's alternative spring break program. 
"I have good friends who have told me that it is a life-changing experience, and I went on the trip and I couldn't agree more," Freedom Murphy, a junior from Atlanta, told BET.com.
From March 8 to March 15, Murphy was one of 350 student volunteers the premiere HBCU assigned to Haiti, Chicago, Detroit, Baltimore, Memphis, New Orleans and locally in Washington, D.C. This year, Howard reached a milestone and marked the 20th anniversary of its alternative spring break program.
Murphy served as a media correspondent for a group that traveled to Detroit. In the Motor City, volunteers helped students of Osborn High School and Cody High School map out their academic and professional careers goals. They also served at adult education facilities and completed maintenance projects at Christ Child House, a society that provides care for abused children.
Howard student Christian Boyd working with a student at Coleman A. Young Elementary in Detroit.  (Photo: Courtesy of Freedom Murphy)
While documenting his peers' activities at these sites, Murphy couldn't help but put his camera down and get involved.
"In that week alone so many kids opened up to us and told us so many painful stories," Murphy said. When it was time to leave, he and other students thought deeply about how to maintain connections with those students. "[They were] so young with so many painful stories with someone walking out of their lives and I feel like this was somewhat of another walking out."
A report released this month called Race for Results details the unsettling reality for African-American children and the conditions that surround their access to success. Although data varies across states, cities and communities, the report considers the situation a "national crisis."
Students who volunteered in other cities described having similar emotional moments. Chinwe Obodo, a sophomore from Washington, D.C., saw herself in two of the students she worked with while volunteering in New Orleans.
"I got placed with two boys that weren't so good in class, but they reminded me of me," said Obodo. "I used to be in trouble a lot during middle school and elementary school. They're the same little boys that are so misunderstood," Obodo explained to BET.com.
As Obodo continues earning her diploma, she now sees the significance of being a positive role model for youth. "I want to continue to do this for the next generation of students," she added. 
For Duclas Charles, a doctoral candidate in Howard's School of Pharmacy, volunteering in Croix des Bouquets, Haiti, was personal. He was raised in Brooklyn, New York, but his parents hail from the Caribbean island. It had been years since he visited Haiti as a child, but returning was a defining moment for him.
"Being there I realized that being a second-generation Haitian, it's definitely my duty to go back and help. Sometime in my future I need to make a plan that's going to include Haiti," Charles told BET.com.
Professional students from Howard's health science programs including dentistry, pharmacy and speech-language pathology were sent to the Haitian American Caucus-Haiti in Croix des Bouquets. The town is 12 miles outside of Haiti's capital of Port-au-Prince. They conducted dental screenings and speech tests for children.

Geraldine St. Jean, a speech pathology student, conducts a hearing test with a student at the Vie de France School in Jacmel, Haiti. (Photo: Courtesy of Victoria Walker)
During the week, the group also attended a Beyond Borders panel on "restavek," a practice in Haiti in which poor children are sent to stay with wealthier families. In exchange for having their education paid for, the children complete household tasks for the families. It has instead become a modern-day form of slavery.
"Sometimes the kids are sent to homes and abused and people that practice that think it's OK," Charles explained. There are an estimated 225,000 children in restavek, according to UNICEF.
Another issue volunteers were part of aiding: the cholera outbreak. Haiti has the highest number of cases in the world since the 7.0 magnitude earthquake in 2010, according to the CDC. The students distributed water filtration devices to different locations with the Haitian American Caucus.

Beersheba Philippe, a law student at Howard, engages students at the Haitian American Caucus in Croix des Bouquets, Haiti. (Photo: Courtesy of Victoria Walker)
Victoria Walker, a junior from Hampton, Virginia, and media correspondent for Haiti ASB, said she was uncertain of what to expect upon going to the island. How the country is shown in the media does not compare to the beauty of its people and culture, she found.
"The biggest thing that they told me to take back was to let people know that Haiti is not what the media portrays Haiti to be. Haiti is a thriving country, and Haiti isn't defined by the earthquake of 2010," she continued.
Although Howard students were spread out in multiple locations for alternative spring break, they held the university's common understanding of the values of truth and service.
"At Howard, service really isn't just a week-long thing," says Walker. "From move-in day to graduation, it is instilled in you that your gifts, your unique talents are meant to help other people."
Follow Natelege Whaley on Twitter: @Natelege.
BET National News - Keep up to date with breaking news stories from around the nation, including headlines from the hip hop and entertainment world. Click here to subscribe to our newsletter.