White Neighbor Who Called Police Before Stephon Clark Shooting Says He Never Wants To Call 911 Again
Dave Reiling said, "they shot an innocent person."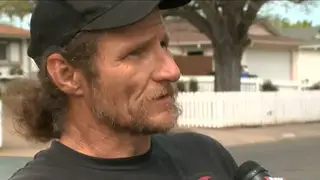 The white neighbor who made the call to Sacramento police which resulted in the fatal shooting of Stephon Clark said he wishes he never called and is hesitant to dial 911 in the future.
According to the Sacramento Bee, Dave Reiling was watching TV when he heard the windows to his two trucks get broken. When he looked outside, he saw a man with a hoodie standing near the vehicles.
Reiling then did what any person whose property is being destroyed would do and he called 911. 
However, when his phone call turned into a deadly attack, leaving a young father of two dead in his backyard, Reiling re-evaluated the efficiency of the police in his community.
"It worries me to call 911 because you may get another cop out here and shoot somebody else. They got to get more training in," Reiling told the Bee.
"It makes me never want to call 911 again," he added. "They shot an innocent person."
Although Reiling didn't know Clark personally, he knew of his family.
"I never really knew him knew him. But I knew of him. He was a nice guy, he didn't deserve that, even if he was breaking my windows out," Reiling told FOX40.
It remains unknown whether Clark was the person Reiling saw prior near his trucks. When asked, Reiling couldn't positively answer.
As the protests surrounding Clark's shooting continues to occupy the Sacramento neighborhood, Reiling is standing in support of Clark's family and thinks the national attention is  a good thing.
"It needs to be national, it needs to be worldwide," he told FOX40. "That way, people know what's going on and put a stop to this police brutality and shootings for no reason."
Both of Reiling's trucks, which he says are his livelihood, are in police custody as evidence.
While Sacramento Police Chief Daniel Hahn said he believes the suspect Reiling saw was Clark, he also said that he could not "say factually it was him yet."
Reiling knew some of the other Clark family members and would occasionally repair their cars when they needed work down.