Snoop Dogg, Ice Cube, E-40 And Too $hort Are Extending Their Longevity
Collectively known as the supergroup Mount Westmore, the four hip-hop legends spoke to BET.com about their album releasing on Dec. 9.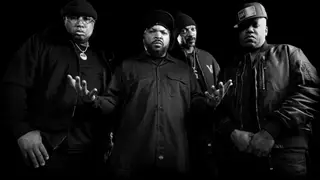 You'd be hard-pressed to find someone who isn't familiar with a song by Snoop Dogg, Ice Cube, E-40, and Too $hort. At the very least, one of their hit records will ring a bell, even if their name does not.
The four rappers have formed the supergroup Mount Westmore, a group of music legends that don't need an introduction, but as the pendulum swings, they continue to reintroduce themselves in new ways. Throughout their illustrious careers, they have recorded number-one songs, released number-one albums, won awards, and made classic movies.
At one point or another, all of the members have been a part of a rap collective. What better way for their legacy to extend than to form a supergroup?
On December 9, Mount Westmore will be releasing their 16-track album, properly titled Snoop, Cube, 40, $hort, said to be the first of more releases to come — being as though they have recorded over 50 songs. Though, they did previously release a NFT album in June: Bad MFs..
The studio was no place for egos (Short, 54, Snoop, 49, Cube, 51, and E-40, 53), having already established decades worth of friendship.
During a digital press conference held on Tuesday (Nov.8), Cube expressed the groups' balance of fun and hard work. The music industry has been a part of their lives for more than three decades. Along with other ventures, they're extending their stay on the mountain, while also having fun with the process.
Five songs that will appear on the forthcoming album were played: "Too Big," "Motto," "Up & Down," Lace You Up" and "Have A Nice Day."
With the exception of Snoop (who was not present due to movie filming), the group members were each other's biggest fan. "I don't think E-40 has ever done a bad hook in his life," Cube said, referring to their song "Up & Down."
How do these iconic artists keep their motivation to produce music after decades in the business?
Here's what Cube, Short and 40 had to tell BET.com:
E-40: All of us got solo careers and have been in groups. It's easier when you're in a group because all you have to do is spit one verse. We spit a verse a piece and it's groovy like a drive-in movie. That's how we were able to knock out 50-plus songs during the pandemic — it was simple.
Too $hort: Ain't nobody dusting off nothing. Since 1980-something, I've been doing shows all through the year. If rap was a sport, I stay in the game. I been flexing and exercising, features and recording. Everybody owns multiple studios and I don't think it was any kind of cobwebs. Every verse that came back from all of us was on point. We can sit here and have a listening session of all 50 songs, them s**ts run. It was really hard to pick the 16 songs that are going on the album.
Ice Cube: We come from those eras where you had to do a whole album yourself. You wasn't gonna have 30 features. It was just you. So to be a part of a group where you don't have all that weight on your shoulders the whole 16 songs, three verses, maybe a feature here and there. "Easy is the word we use but we're so polished in the game, that, when you break us down to one verse, it do look like easy money. You still have to compete with three ferocious a** emcees. If you come weak, it's gonna show.