Snoop Dogg And Dr. Dre Team Up For New Album 'Missionary'
This will be the West Coast rapper's 20th studio album to date.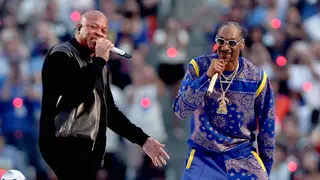 Snoop Dogg is scheduled to release a new album produced by Dr. Dre.
"It'll be done in November. It's produced by Dr. Dre, it's our 30th anniversary to Doggystyle," Snoop shared, making Missionary his 20th studio album.
Both industry veterans have shared several teasers about new music plans, and back in August of this year, the duo was seen in the studio with Eminem.
"Just a few bros..hangin out," Em captioned his Twitter post.
Most recently, Snoop and Dre became Emmy award-winners after putting on a legendary Super Bowl halftime show with Mary J. Blige, 50 Cent, Kendrick Lamar, and Eminem.
The star-studded performance won three awards at the 2022 Creative Arts Emmys, including Outstanding Variety Special (Live), Outstanding Music Direction, and Outstanding Production Design for a Variety Special (Area).
Listen to Snoop Dogg on Stephen A. Smith's Know Mercy here.