5 Stars Who We'd Cast to Play Janet Jackson in a Biopic
During a recent interview with Nick Cannon, actress Keshia Knight Pulliam revealed her desire to play Janet Jackson on screen.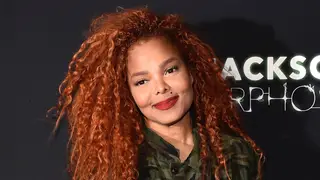 The internet went ham over a recent interview featuring actress Keshia Knight Pulliam on The Nick Cannon Show. The actress revealed her desire to play Janet Jackson on the big screen.
The former child star who once stole America's hearts as Rudy Huxtable on The Cosby Show shared her aspiration during the "Story of the Gram" segment, which included a picture of Knight Pulliam hanging out with the Rhythm Nation artist.
"I first met her when I was little," Knight Pulliam told Cannon. "I was probably about 8 or 9 years old the first time. And I am like 'Listen, if I am alive and able, when you are ready to do your life's story, I'm playing you."
Cannon, who agreed that she would "be perfect" to play the famous Jackson sibling, had the backing of a litany of social media pundits who agreed. And while many others who expressed unsureness offered suggestions like Ciara, Halle Bailey, or "the 1990s version of Lark Voorhies" to play the five-time Grammy winner, BET.com wanted to cosign some casting choices of our own.
Here are five stars that are great options for a Janet Jackson biopic.
Christina Milian

In all honesty, the former Def Jam singer still has the skill and talent to hit the recording booth, but she's mostly been racking up IMDb credits lately. The past five years have found the Love Don't Cost a Thing actress concentrating on voice work, but with her range as a singer, dancer, and comedic performer who "loves to hit the stage," having someone like Christina Milian play Janet Jackson might fit the bill nicely.

Keke Palmer

Is there no bag that she cannot find herself in these days? The co-host of Strahan, Sara & Keke, has been around long enough in the entertainment business to know that she has the skills to play a part that's both convincing and memorable. In fact, given Keke Palmer's recent batch of roles in films such as Hustlers, Insecure, and the upcoming Jordan Peele film, Nope, playing the baby Jackson sister would be a career move. Her performance could invoke her 2012 "young and inspiring" rendition of Michael Jackson's song, "Man in the Mirror."

Halle Berry

The Academy Award-winning actress and Hollywood box office star might be the only person who might get a head scratch since she's the same age as the subject of the would-be biopic. Halle Berry, who is no stranger to playing musically inclined legends (she played Dorothy Dandridge in 1999's Face of an Angel), has the right acting ability to handle the rougher edges of Janet Jackson's story. And she can leverage her years on this earth to invoke deeper emotions for touching moments between her (as Jackson) and her mother Katherine.

Ryan Destiny

The Grown-ish star, Ryan Destiny, has already built a reputation as a solid character actor. After playing Alexandria Crane Jones on Star, she showed how well she could play a singer with a dream looking to step out of the shadows of her famous father and make it on her own.

In 2020, she made eagle-eyed fans do a double-take as she looked like a doppelganger of Miss Lauryn Hill for Halloween. And in Flint Strong, she's already showcasing that she has just the right look, as real-life boxing champion as Clareesa Shields. If given the proper hairstyle and makeup, Ryan Destiny could definitely pass with flying colors as Damita Jo.

Taraji P. Henson

As still one of the most in-demand actresses in Hollywood, Taraji P. is no stranger to switching up her styles between roles. Back in 2020, she channeled one of the fiercest Janet Jackson era looks, the Velvet Rope era — and the Howard University grad had nothing but love from adoring fans.

While the star of the upcoming Emmett Till drama, Till, is prepping to play Mamie Till-Mobley — her creativity as Janet was so memorable that she earned the approval of Jackson herself, which is just the right co-sign to bring these two "Together Again" for a biopic, no?