Mistrial on Murder Charge in Jordan Davis Shooting Death
Michael Dunn has been convicted of three counts of attempted second-degree murder after an argument over loud music outside of a convenience store. A mistrial was declared Saturday on a first-degree murder charge of Jordan Davis.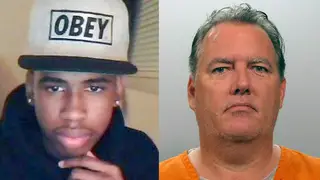 Michael Dunn has been convicted of three counts of attempted second-degree murder after an argument over loud music outside of a convenience store. A mistrial was declared on the first-degree murder charge in the shooting death of Jordan Davis, a 17-year-old unarmed African-American, after the jury couldn't agree on a verdict.
The verdict in the racially charged case drew strong reactions from various civil rights activists, elected officials and others who complained that the evidence of first-degree had been overwhelming and that the results reinforced the notion that young African-American lives are held to a lesser level of respect than others.
The jury of 12 individuals reached the verdict Saturday night after more than 30 hours of deliberation over four days.
Dunn was charged with first-degree murder in slaying Davis at a gas station in November 2012. Davis and his friends were playing music loudly in an SUV next to Dunn's car. The 47-year-old demanded that the music be turned off, before firing the shots that killed Davis. Nine bullet holes were found on the SUV, according to a detective.
Dunn claimed self-defense and said he saw a weapon in the teen's car, even though police did not find a gun in the vehicle. "Jordan Davis kept escalating this until the point I had no choice," Dunn said during his testimony Feb. 11. "It was life and death."
The parents of Davis, who would have turned 19 on Saturday, said they were pleased that some semblance of justice had been served and that Dunn is likely spend more than 60 years in prison. They also said they were pleased that the state prosecutors will again pursue first-degree murder charges against the 47-year-old Dunn.
Lucia McBath, the mother of Jordan Davis,said that her family is "so very happy to have just a little bit of closure" as a result of the jury's decision.  "It's sad for Mr. Dunn that he will live the rest of his life in that sense of torment, and I will pray for him," she said, speaking to the press after the verdict was announced.  "And I've asked my family to pray for him."
Some reactions were far stronger, reflecting the disappointment many felt that Dunn was not convicted for first-degree murder.
"I have mixed emotions about the verdict," said Alan B. Williams a Florida State representative who has championed the repeal of the state's controversial Stand Your Ground law, speaking with BET.com. "I feel that justice has been served somewhat, but not completely. While I respect the judicial process, I believe that the laws on our books -- these shoot-first laws -- must be repealed or repaired."
In a statement, the Rev. Al Sharpton said, "We are deeply disappointed by the verdict in the case of Michael Dunn. Though he was convicted for attempted murder and shooting into the car, the value of Jordan Davis' life was not addressed in this verdict. The mistrial further sends a chilling effect to parents in the twenty-three states that have the Stand Your Ground law or laws similar.
During the trial, prosecutors pointed out conflict between his testimony in court and the story he told authorities. While on the stand, Dunn said he was called "a cracker" and that Jordan slammed something against the car door, but he made no mention of this to detectives. Dunn also said Davis opened the door of the SUV he was in and said to Dunn "you're dead."

BET National News - Keep up to date with breaking news stories from around the nation, including headlines from the hip hop and entertainment world. Click here to subscribe to our newsletter. 

Follow Jonathan Hicks on Twitter: @HicksJonathan
Follow Natelege Whaley on Twitter: @Natelege.

(Photo: Bob Mack/Poo/Landov)