15-Year-Old Boy Live Streams His Suicide as Part of Dangerous Viral 'Blue Whale Challenge' That Targets Kids
Isaiah Gonzalez's parents are warning others to check their children's social media pages.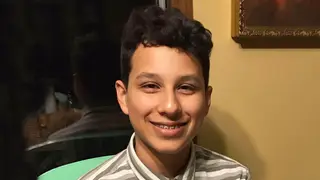 A 15-year-old boy in San Antonio, Texas, took his own life while live streaming to social media on Saturday. Now, his family is warning others of the internet challenge they say led to his suicide. 
Isaiah Gonzalez and many other children around the globe have joined a social media group called the Blue Whale Challenge. In this group, admins encourage kids to harm themselves and commit suicide. According to police, the group has targeted kids on Facebook, Instagram and Snapchat.
Isaiah's parents are warning other parents to be mindful of their children's social media accounts. Family members describe Isaiah Gonzalez as a happy and kindhearted 15-year old.
"Every day he was always making everybody smile," Angela Gonzalez, Isaiah's mother, told News 4 San Antonio.
Family members say they found Isaiah early Saturday morning hanging from his closet with his phone propped up, recording the event. Through an investigation of his phone, they discovered he was participating in the 50-day Blue Whale Challenge.
"It talks about satanic stuff and stuff like that and my son was never into that," Jorge Gonzalez told News 4.
"You have to carve a number into your arm, you have to cut yourself," said Alexis, Isaiah's older sister.
Isaiah's older sister Alexis says those controlling the challenge send threats if tasks are not complete.
In the "Blue Whale Challenge" or "Blue Whale Game," teens tag their friends on Snapchat and other apps while they participate for 50 days. Once someone is challenged to play, they download the Blue Whale app, which hacks into their personal information and cannot be deleted.
The app originators then threaten the teenagers with harm to their families or the releasing of personal information until they kill themselves.
The Gonzalez family is urging parents to keep a close eye on their children's phones and social media accounts.
"Look at it because you can catch it," said Jorge.