Dame Dash Claims Aaliyah Made One Request To Him About R. Kelly...
"So I did what she wanted me to do..."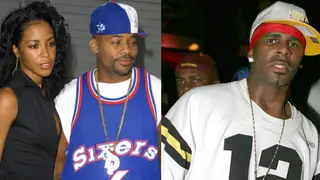 Roc-A-Fella co-founder and entrepreneur Dame Dash is clearing his name amid the Surviving R. Kelly controversy and a few side-eyes brought on by statements from Memphis Bleek.  
According to the Memphis-raised rap star, Dame didn't tell the entire truth regarding his involvement with R. Kelly and Jay-Z's Best of Both Worlds album collaboration. The commentary came after Dame's expression of contempt with the Lifetime docu-series, the Chicago singer and his late R&B songstress girlfriend, Aaliyah. He also claimed to be totally unsupportive and far removed from the Hov and Kelly album collabo. According to Bleek, Dame was "f**king lying" about that and was never opposed to the idea of the project as he previously stated.
But Dame is holding tight to his word regardless of Bleek's stance on it and even has an explanation for why he hopped on camera for the accused sexual predator's "Fiesta" music video as well.
In an interview with 'Hip Hop Motivation,' Dame first addressed Bleek's claim that he's a liar

"From what I saw on Instagram, he called me a liar but he had nothing to support [that claim," Dame said. As far as he sees it, Bleek asserting that he was going to get on his "[Funk] Flex sh**" meant he was planning on lying or making baseless statements. "If somebody calls me a liar, they should at least say what I lied about and how I lied about it," he continued.

He reiterated that he is not on 'Best of Both Worlds' or any affiliation with it

Dame did say, however, that he was in Kelly's music video upon Aaliyah's request at the time. "I was in 'Fiesta,' but only because Aaliyah said to do it exactly that way, so I did what she wanted me to do."

Hear his full response to Bleek and his explanation for the "Fiesta" visual appearance below.