BREAKING: Multiple Victims Wounded In New York City Subway Shooting – What We Know So Far
A lone gunman is being sought, meanwhile 10 people are suffering from gunshot wounds.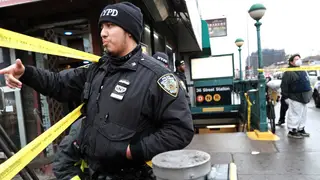 At least 10 people were shot and 16 were hospitalized Tuesday morning when an unknown gunman opened fire on a New York City subway car during the morning commute. Video showed smoke coming out of the car where the attack took place and witnesses said a suspect wearing a green construction vest, gray hoodie and a gas mask fled the scene. The NYPD has launched a manhunt for the perpetrator who is currently at large as they are still trying to uncover a motive.
Both President Joe Biden and Attorney General Merrick Garland have been briefed as of Tuesday (April 12)  morning of the shooting and the developments in this case. They have offered federal assistance to Mayor Eric Adams as the situation continues to unfold.
The city, long wary of terror incidents since Sept. 11, 2001, has responded with very tight security on public transportation as parts of New York City have faced an uptick in violent crime. Police, however, confirmed that they do not believe this is a terrorist attack, but the act of a lone individual.
New York Attorney General Letitia James issued a statement in response to this morning's shooting in Sunset Park, Brooklyn saying in part, "This attack that injured 16 innocent New Yorkers and impacted countless more will simply not be tolerated. My office is monitoring the situation and we remain in contact with the NYPD and our other partners in law enforcement. Our entire city is grateful to the transit workers, first responders, and everyday New Yorkers who acted quickly to help those in need. I urge anyone with information to please contact the NYPD at 1-800-577-TIPS."
Details were scant and officials are expected to announce more during a press conference, but here's what we know so far:

Shooting Happened At Height of Morning Commute

Police were called to the 36th Street station at about 8:30 a.m. in the Sunset Park area of New York's Brooklyn borough, a diverse working-class enclave. The incident took place on a northbound N train as it pulled into the station which connects the area to other lines running towards downtown Brooklyn and southern points like Bay Ridge and Coney Island. Investigators believe that the train pulled into the 25th street station and an unidentified man threw a smoke bomb into the car and began firing. When it pulled into the 36th Street station people began to run out of the car to escape, some collapsing onto the platform and others bloodied. No active explosive devices had been found at the scene, according to the NYPD.

RELATED: BET.com News Special: NYC Mayor Eric Adams Marks 100 Days In Office
10 People Shot, 16 Hospitalized, Reports Say

According to CBSNewYork, police are saying at least 10 people were wounded and at least 16 people were taken to hospitals – five in critical condition, although the situation remains fluid. One person was reportedly severely injured. The names of those hurt have not been released. Witness video [Warning: GRAPHIC] shows the passengers helping each other off of the train. Many were overwhelmed by the smoke and confused as to what was happening in the moment.
Yav Mantano, a commuter who was on the train when the shooting took place, told CNN that he has "no words" for what happened. "I was in the front end of the third car and everything happened at the back end of the same car. ... As soon as the smoke, like, flared up, it started to engulf everything. People started migrating to the front of the car," he said.

Gunman At Large, Motive Unknown

Police believe the perpetrator launched a planned attack, but are unclear on a possible motive. Officials are looking for a heavyset man wearing a gas mask who may have been trying to disguise himself as a transit worker, according to The New York Times. NYPD Commissioner Keechant Sewell said the suspect is described as a Black male.
"We don't know what the motive is, we're not ruling anything out," she said during a Tuesday press conference. The gunman escaped the scene, and no one currently has any idea of his location, although a manhunt has been launched. Area schools in a one-mile radius have been told to shelter in place and the area around the incident has been cordoned off by police. The violence comes as the city is already seeing an increase in gun crimes since the beginning of the coronavirus pandemic. Just recently Mayor Eric Adams spoke to BET.com, about the violence taking hold of the city. "...We're making sure we go after those dangerous people who carry guns. But let's close the pipeline that feeds people the need to carry a gun."