Hip Hop Awards 2022: Who is Nadia Nakai? Meet Burgeoning South African Hip Hop Star
The rising artists already has over 2 million followers on Instagram.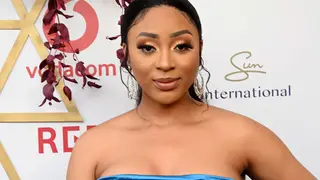 Rising South African hip-hop artist, Nadia Nakai got her start in the music business in the early 2000s following her appearance in a show titled Shiz Niz. Nadia became the first female rapper to win the show's Mixtape 101 competition. And this year, she's nominated for "Best International Flow" at the BET Hip Hop Awards 2022.
She would later grow her fan base after releasing several projects, including her debut single, "Like Me," in 2013 and several more after. Her biggest hit came in 2017 with the release of a track titled "Naaa Mean." Two years later, she launched her debut album, Nadia Naked, which included several international artists, including Stefflon Don.
Soon enough, Nadia will be unavoidable. When she's not creating music, she is also a voice-over artist and TV presenter.  Nadia hosted the 2018 MTV Europe Music Awards red carpet and co-hosted on Yo! MTV Raps Africa. 
She used to work in advertising

Before focusing on her rap career, Nadia got a degree in Marketing, Communication, and Media Studies and ultimately got a job in advertising. 

She has several different names

The rapper was born Nadia Nakai Dlamini. However, when she was 16, she changed her surname to Kandava, her mother's maiden name. Her legal name is now Nadia Nakai Kandava.  She also goes by Bragga,  the title of her 2016 EP. She reportedly got the inspiration from Arturo Braga, a character in the Fast & Furious franchise.

She's earned over a dozen recognitions

During her time as an artist, Nadia has garnered over a dozen recognitions, including several South African Hip Hop Awards nominations, including a win for "Best Female" in 2019.

She hosts when she's not rapping

Outside of music, Nadia has also done work as a voice-over artist and TV presenter. She hosted the 2018 MTV Europe Music Awards red carpet and co-hosted on Yo! MTV Raps Africa.

She made her reality television debut in 2022

Earlier this year, the multitalented artist starred on Netflix's original reality show Young, Famous & African. The budding raptress appeared alongside several African entertainers, including Diamond Platnumz, Andile Ncube, Swanky Jerry, Naked DJ, Kayleigh Schwark, and many more.

Watch the Hip Hop Awards on  Tuesday, October 4, at 9 PM ET/PT on BET