Soul Train Christmas Line Up
Get to know the performers for A Very Soul Train Christmas!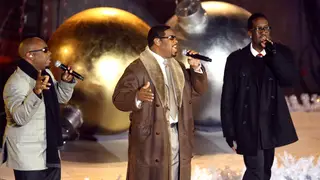 Kenneth 'Babyface' Edmonds

Kenny "Babyface" Edmonds is the smooth singer-songwriter and producer from the '90s. He created major hits and continues to dominate in the R&B field!

Brian McKnight

Brian McKnight was one of the leading male R&B singers in the '90s and early 2000s. His voice captivated his audience every time!

Dru Hill

Dru Hill dominated the late '90s as an all-male singing group. From soul to hip-hop, Dru Hill made music for the masses!

Take 6

Take 6 is a group comprised of six men that know how to sing! The group often sings a capella and have won numerous awards!

Boyz II Men

Boyz II Men is one of the most notable male R&B groups of all time! The group is known for their great vocals and classic hits!

Luther Vandross

The late Luther Vandross is a legend. He was a singer, songwriter and producer who created songs that will last a lifetime.

Chaka Khan

Chaka Khan's voice and spirit resonates with her audience in an amazing way. She is truly a talented musician and is also the Queen of Funk!

Kirk Franklin

Kirk Franklin is a talented gospel musician. He made major advancements in the integration of gospel into mainstream music.

Yolanda Adams

Yolanda Adams is one of the queens of gospel music. Not only does she sing, she also acts and is a record producer. This queen is a living legend.

Smokey Robinson

Smokey Robinson is another living legend! He's an infamous singer, songwriter and producer whose stamp on soul and R&B music will last forever.

Ruben Studdard

Ruben Studdard's breakout was during his appearance on Season 2 of Fox's American Idol. He went on to win hearts and ultimately win the contest! He is known for his music in the R&B, pop and gospel genres. 

Kenny Lattimore

Kenny Lattimore is an R&B singer that created hits in the late '90s and early 2000s. One major hit came from his duo with his then-wife, Chanté Moore. The duo created an album entitled That's What Lovers Do in 2003.

Chante Moore

Chante Moore is a R&B and jazz singer. With her time in the business, she's gone on to collaborate with major musicians. She has also had hits with her ex husband, Kenneth Lattimore.

Donnie McClurkin

Donnie McClurkin is a gospel singer and minister. He started singing gospel after he began his work in the church. He is currently a senior pastor and continues to create music.