'Married At First Sight' Stars Woody Randall and Amani Aliyya Welcome Second Child
The couple met on the reality dating show in 2020.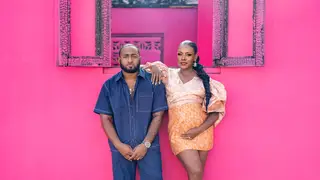 Woody Randall and Amani Aliyya's family just got bigger!
Earlier this month, the couple who met on the reality dating show "Married at First Sight" in 2020, had their second child together. A rep confirmed to PEOPLE that their infant son, Rai Zahir Randall, made his grand entrance on Nov. 7, weighing 6 lbs. and measuring 19 inches long.
"We are super excited to have completed our family! We've been resting and enjoying our new family of four dynamic. Reign is totally obsessed with his baby brother!" the parents said in a statement while referencing their 17-month-old eldest son.
"He gives Rai lots of hugs and kisses. He even tries to feed him his snacks. The moment Reign woke up Tuesday morning and met Rai was so sweet. He smiled really big and wanted to play with him. We can't wait to watch their relationship continue to grow!"
In June 2022, the doting parents welcomed their first son, Reign. The parents reflected on their parenthood journey while celebrating the 1-year-old's birthday this year.
"This first year of parenthood has been a huge learning experience," the couple told the publication. "Not just learning about Reign, but ourselves also. [It's] been challenging. Handling sleep regressions due to growth spurts or teething has caused a lot of sleepless nights."
"It was hard but we made it through and couldn't be happier to spend every day with him. Reign is one of the happiest babies we've ever met and that's been worth every tough moment we've encountered."
As first-time parents at the time, they acknowledged how parenting is less challenging with a devoted partner by your side.
"Juggling everything that is needed for your baby is hard for one person and it is so important for us both to play our role in the rearing," they explained. "There will be times where certain duties can only be done by one parent but as long as the other is helping in other areas, it makes the job less daunting."
Over the weekend, proud father Randall shared a sweet photo of his boys as Reign embraced the newest member of their family.
"The Randall Boys," he wrote in the caption. "ReIgn & RaI."