8 Essential Three 6 Mafia Albums In Honor Of The 28th Anniversary Of Their Classic Debut
On May 23, 1995, the legendary Memphis hip-hop group dropped 'Mystic Stylez', an LP that would help launch their illustrious run in the rap game.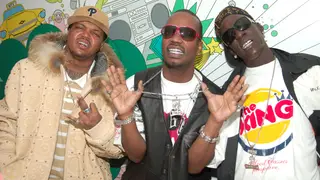 When running back a list of the top hip-hop albums of the 1990s, those five to 10 always come to mind instantly – Biggie's Ready To Die, Dr. Dre's The Chronic, Nas' Illmatic. However around that time, the south had been mainly ignored, outside of OutKast, but still very much had something to say, as the mixtape circuit was heavy throughout Georgia, Alabama, Mississippi and other states.
Three 6 Mafia was one of those groups that wanted to bring their underground and demonic sound to the masses, even if it was through mainstream means at the time. Initially forming in the early 1990s, DJ Paul and Lord Infamous – then known as the duo Da Serial Killaz – spent their early years reading about the diabolical mind.
The hip-hop scene in Memphis during the early '90s wasn't well-known outside the states nearby. The city's underappreciated character further encouraged locals' desire to support themselves. There was money to be made if you had tunes played in bars or, more crucially if they were bumped in whips on Sundays at the Crystal Palace skating rink. At the time, mixtapes could easily sell over 100K copies with little overhead.
After Paul and Lord met up with group co-founder Juicy J (and subsequently Crunchy Black, Koopsta Knicca and Gangsta Boo in later years), the group decided to release their official debut album as Three 6 Mafia. Mystic Stylez represents the terror of Son of Sam-type figures combined with the intrigue of a '90s Unsolved Mysteries episode. Its sonic element is also something of note outside of the horrorcore genre. Lord Infamous' trademark tongue-twisting flow, which is heavily prevalent on the LP, is still commonly used among rappers today. Paul and Juicy's deep drums and quick-hitting hi-hats also offered a blueprint still followed by many notable southern producers.
In honor of the album's anniversary that started it all for Three 6, BET has compiled 8 essential albums created by the M-Town clique, for your listening pleasure (in no particular order). Suffice to say, their sound has come a long way.
Three 6 Mafia: Mystic Stylez (1995)

Let's begin with the one that started it all. Mystic Stylez encapsulated the Memphis horrorcore hip-hop sound and would later be acknowledged as having significantly influenced the development of more contemporary southern rap. Think Migos, Gucci Mane and Duke Deuce.

Gangsta Boo: Enquiring Minds (1998)

As the first lady of Three 6 Mafia, Gangsta Boo's haunting lyrics and fussy rhyming style was one of a kind, and that certainly played itself out on her debut album, Enquiring Minds. Led by "Where Dem Dollas At," the LP and Boo herself have been extremely influential in modern southern hip-hop. Just ask GloRilla or Latto.

DJ Paul & Lord Infamous: Come With Me To Hell (1994)

Three 6 Mafia's early work, including that of DJ Paul and Lord Infamous, can be linked to the band's early working days. The duo released Come With Me to Hell in 1994, just as Three 6 Mafia started to take shape. Even though it would eventually be remastered, the music's raw and aggressive nature can still be heard while listening to the early takes of songs like  "All Dirty H**s," "Back Against Da Wall," and "Smoke a Junt."

Three 6 Mafia: Chapter 1: The End (1996)

The substance of Three 6's sophomore album was largely carried over from Mystic Stylez, but the production value widely improved. A year after releasing their debut, the group returned with a more polished and single-focused follow-up with  Chapter 1: The End. While still retaining some of the distinctive Triple 6 hardcore sound, songs like "Late Night Tip" navigated a more commercially accessible route for them.

Koopsta Knicca: Da Devil's Playground (1999)

With his unique voice and frequent transitions into the tongue-twisting style made famous by his Mafia partner Lord Infamous, Koopsta eloquently relays tales of gloom and terror on Da Devil's Playground that served as an example of his exceptional lyrical talent. Dark and brutal lo-fi tracks like "Torture Chamber," "Robbers" and "Crucifix" effectively introduce those characteristic elements, which carry through the project.

Lord Infamous: Lord Of Terror (1993)

On Lord Of Terror, Lord Infamous debuts his trademark tongue-twisting rhyming style, which would become revolutionary and influential for rappers to emulate many years later. Additionally, Three 6's mid-'90s beef with Bone Thugs-N-Harmony, which would be unveiled on the EP Live By Yo Rep (Bone Diss) a year later, was largely started by a dispute over the innovative style.

Three 6 Mafia: Most Known Unknown (2005)

Three 6's platinum-selling Most Known Unknown LP is anchored by monstrous singles "Stay Fly," "Poppin' My Collar" and "Side 2 Side" and officially fully crossed the Memphis group into mainstream fame. The record also marked a turning point for Three 6 as it did not include original group members Lord Infamous, Koopsta Knicca or Gangsta – all of which are now sadly deceased, passing away in 2013, 2015, and 2023, respectfully.

Tear Da Club Up Thugs: CrazyNDaLazDayz (2000)

CrazyNDaLazDayz evolved into a more regionally-focused endeavor at the turn of the millennium and featured appearances from just about everyone who mattered in Memphis hip-hop at the time. The LP was also significant for featuring many performers from the South, West Coast and Midwest during a time of turmoil. Along with Crucial Conflict and Twista, the project features Spice 1, Too $hort and Outlawz member Hussein Fatal and the Hot Boys and Birdman.