Florida Asks U.S. Supreme Court To Uphold Its Controversial Social Media Law
At issue is the right of social media companies to ban or moderate political speech on their platforms.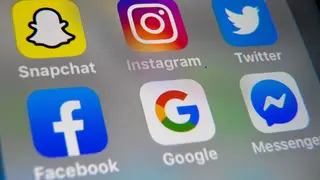 Florida asked the U.S. Supreme Court to decide whether the Constitution permits social media companies to limit political speech on their platforms.
The state made that request in a petition filed Sept. 21 that asks the high court to resolve conflicting rulings by two different federal appeals courts, Reuters reports.
At issue is the constitutionality of Florida and Texas laws that would bar Facebook, Twitter and other social media companies from moderating posts or banning political candidates from using their platform.
Republicans have criticized the companies for banning former President Donald Trump after he praised his supporters for attacking the U.S. Capitol on Jan. 6, 2021.
Florida's law would require the social media companies to reveal how they decide which users to ban and compel them to apply the rules consistently.
NetChoice, an internet industry group whose members include Amazon, TikTok and Google, opposes Florida's law.
"Florida's laws would deny websites the right to remove content that the website doesn't want," a NetChoice statement read. "This law represents government-compelled speech in violation of the First Amendment. If allowed to go into effect, the Florida law would require websites to show users lawful but awful content the websites do want to have."
Carl Szabo, NetChoice Vice President and General Counsel, agreed that the Supreme Court should hear the case.
"We look forward to seeing Florida in Court and having the lower court's decision upheld," Szabo said. "We have the Constitution and over a century of precedent on our side."