NBA Suspends Season After Player Tests Positive For Coronavirus
The move comes after Utah Jazz center Rudy Gobert tested positive.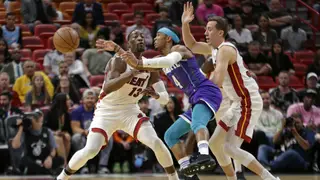 In an unprecedented move, the NBA has announced it has suspended the remainder of its season after Utah Jazz center Rudy Gobert tested positive for coronavirus. The suspension is to remain in place "until further notice," the league said.
The Athletic reported Wednesday that the Jazz was preparing for its game against the Oklahoma City Thunder, but prior to tipoff, a public announcer said that the game had been postponed due to "unforeseen circumstances" and a crowd of nearly 18,000 fans were forced to leave Chesapeake Energy Arena in downtown Oklahoma City.
Both Gobert and point guard Emmanuel Mudiay had been ruled out of play for the game due to illness prior to the game's start. Gobert, 27, who comes from France was said to be feeling strong and well enough to play. 
Prior to the league's decision no other game was postponed and all games scheduled for Wednesday evening were to go on as planned, but late in the evening the New Orleans Pelicans and Sacramento Kings game was abruptly postponed as well.
The announcement came just minutes after President Trump addressed the nation on live television, saying that all travel from Europe, with the exception of the United Kingdom, would be suspended for 30 days beginning Friday at midnight.
Around the same time, actor Tom Hanks tweeted that he and wife, actress Rita Wilson had tested positive for COVID-19 while in Australia.
Earlier in the day, the NCAA announced that its much-anticipated annual men's and women's Division I college basketball tournaments would go forward, but would be played without fans and only with essential staff and families present.
The dramatic responses to the coronavirus pandemic have touched almost every corner of American life. From education, in which many colleges have cancelled classes or reverted to remote learning, including HBCUs like Morgan State, Bowie State and Lincoln University; to municipalities like New York City suburb, New Rochelle which has been ordered placed in a "containment area" by Gov. Andrew Cuomo; to major festivals like SXSW in Austin, Texas, which was cancelled by city officials and Coachella, which was postponed until the fall.