NYC Mayor Eric Adams Calls Chicago Mayor's Election Loss A National 'Warning Sign'
Lori Lightfoot's popularity declined as violent crime spiked in Chicago during the pandemic.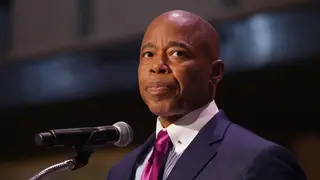 New York City Mayor Eric Adams, a retired NYPD captain, said Chicago Mayor Lori Lightfoot's recent election defeat is a "warning sign for the country" – not just Democrats – about how to deal with violent crime.
"I showed up at crime scenes. I knew what New Yorkers were saying. And I saw it all over the country. I think, if anything, it is really stating that this is what I have been talking about. America, we have to be safe," Adams told CNN's Dana Bash Sunday on State of the Union.
This isn't a new message from Adams, who defeated several Democrats in his 2021 primary election with a get-tough-on crime campaign enroute to becoming mayor. After a subway mass shooting in April 2022, Adams warned that gun violence is a national issue, not a red state or blue state problem.
"Mayors, we are closer. We're closest to the problem," Adams told CNN, underscoring that increasing prosperity in cities depends on stemming violent crime. "We are focused on public safety because people want to be safe."
Democrats in New York have blamed Adams for the party's dismal performance in the 2022 midterm elections, The New York Times reported. According to that narrative, the mayor's tough-on-crime policy positions helped to fuel the GOP's crime fear mongering tactic.
"The polls were clear. New Yorkers felt unsafe,and the numbers showed that they were unsafe," Adams told Bash, defending himself from those critics.
"Now, if we want to ignore what the everyday public is stating, then that's up to them. I'm on the subways. I walk the streets. I speak to everyday working-class people. And they were concerned about safety."