Chris Spencer And Faizon Love On Their New Film 'Back On The Strip'
The comedy, which also includes Tiffany Haddish and Wesley Snipes, is in theaters today.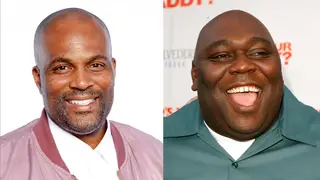 Although Chris Spencer is a longtime writer and producer, he is making his directorial debut with the comedy "Back on the Strip," which opens in theaters today. The movie follows Merlin, played by Spence Moore II, who moves to Las Vegas to make his dreams come true as a professional magician. However, he is soon offered to join a Black male stripper crew known as "The Chocolate Chips," and hilarity ensues.
We had the privilege of sitting down with director Chris Spencer and co-star Faizon Love to delve into the making of the movie and the magic they hope to bring back to the big screen.
BET: "Back on the Strip" opens in theaters today. How do you feel about your directorial debut?
Chris Spencer: I feel great! To have my first feature with a decent budget and to have such an all-star cast with Faizon Love, Tiffany Haddish, Wesley Snipes, Bill Bellamy, JB Smoove, Gary Owens, and Spence Moore. This newcomer Raigan Harris, you may have seen her on "Grown-ish," Ryan Alexander, who plays the villain -- I would say it was a dream come true, but I never dreamt this. I never dreamt I would be so fortunate that my first feature would have such an all-star cast.
BET: Mr. Love, Mr. Spencer has a ton of experience, but is it different working with a first-time director?
Faizon Love: Frankly, their vision is a little more focused than the director who does it a lot because this is their baby. A friend of mine said he worked with Clint Eastwood, and Clint Eastwood didn't give him any direction. He said, "You want to give me some direction?" Clint Eastwood said, "You're an actor, aren't you? Then act!" [Laughs]
BET: For folks who may not know, tell us about "Back on the Strip."
Chris Spencer: It's a love story about this young man who wants to pursue his dreams as a magician. He gets to Legas, and his dreams have been derailed because of an occurrence that I don't want to give away, which allows Wesley Snipes' character to see him and says he needs to be the new frontman of this group of a male dance revue with Faizon Love, Gary Owens on and Bill Bellamy... the young man has a gift. [Laughs]
BET: Mr. Love, in 1997, you had a small role in "B.A.P.S.," which is now considered a classic. What are your memories of being in "B.A.P.S."?
Faizon Love: Well, I was supposed to be AJ Johnson's character. They didn't want to pay me, so I told Robert Townsend [the director] ain't doing it. He said, "Are you crazy?" It was a big fight. We were doing the TV show "The Parent 'Hood," and it divided us. So Robert was pissed off because I wasn't going to do the movie. One of the producers said, "Can you do something on it for me?" I end up doing like a day's work.
BET: Why should the BET audience see "Back on the Strip"?
Chris Spencer: Eighteen-hundred screens, go big or go home.  "Back on the Strip" -- Faizon Love, Tiffany Haddish, Wesley Snipes, JB smooth, Gary Owens, Bill Bellamy, and more. It was co-written by my dear friend, Eric Daniel, and produced with my wife, Vanessa Bell Calloway.