New Music Monday: Janelle Monáe, Lil Durk And Jean Dawson Start Your Week With A Fresh Batch Of New Tunes
Tune in every Monday to catch songs you need to add to your rotation.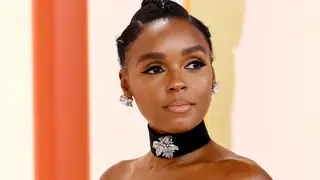 Keeping up with all the new music released each week is challenging. Something new comes out just as you start to fall in love with a particular song, album, or artist. Being a music fan today is enjoyable, but also challenging.
However, you can relax knowing that BET has you covered with our weekly New Music Mondays piece, which highlights some of the most recent performers, sounds, and trends in hip-hop, r&b, Afrobeat, house, and more.
You'll discover a variety of well-known (and less-well-known) musicians and up-and-coming artists. Without further ado, here are ten new records to start your week off with, led by Janelle Monáe, Lil Durk and Jean Dawson.
Janelle Monáe: "Lipstick Lover"

Late last week, Janelle Monáe released their latest single and sultry new video for "Lipstick Lover." You'll want to check it out if you haven't already.

Lil Durk (feat. J. Cole): "All My Life"

Lil Durk and J. Cole collab for a moving new single off of the Chicago rapper's upcoming album "Almost Healed" due out on May 26.

Jean Dawson: "youth+"

Late last week, Jean Dawson released two new songs – "Delusional World Champion" and "youth+", the later of which we're really, really digging heavy.

BreezyLYN (feat. Lola Brooke & Kali): "Bad B*****s"

Brooklyn rapper BreezyLYN released her latest single on Friday, enlisting fellow BK baddie Lola Brooke for "Bad B*****s."

Veeze (feat. Lil Uzi Vert): "GOMD (Remix)"

On Friday, Detroit rapper Veeze released his new song "GOMD (Remix)" featuring Lil Uzi Vert. The new drop is in preparation for his long-awaited debut album Ganger.

JasonMartin (fka Problem) (feat. Nate Curry): "Fupayme"

JasonMartin (the rapper formerly known as Problem) released his new song/video "Fupayme." It's off of his new album I Owe Myself.

Teni: "No Days Off"

Afrobeats artist Teni releases their new club-ready single "No Days Off," which has her reflecting on her journey thus far.

Chavo: "System"

On Friday, Sosshouse artist Chavo released his new Pi'erre Bourne-produced single "System" off his new project Chavo's World 3.

Kah-Lo: "fund$"

Last week, Nigerian dance-pop singer Kah-Lo released a video for her brand new song "Fund$."

Tigo B: "Lover"

North Carolina's Tigo B released his latest Afrobeat song "Lover," produced by Aymix Beats.

Bonus Heat #UpAndComing: Check out Young Quez's brand new song/video "Real Rap"