This Actress Says She Hopes Cardi B And Other Celebs 'Sh*t Their Pants' For Selling Teatoxes
This feud is starting to stink.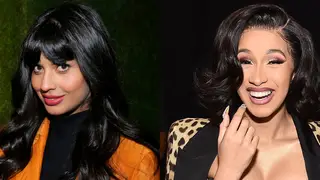 Just when you thought the detox tea beef between actress Jameela Jamil and rapper Cardi B was flushed down the toilet, this happens.
Utterly confused and a little grossed out? Let us tell you the story.
It all started when The Good Place actress wrote a post exposing celebrities who promise their fans a flat tummy if they use a brand of highly socialized detox teas otherwise known as teatoxes—yeah, we know you've seen it on your fave celeb's page!
Sick of seeing them on her timeline, on Tuesday (Nov. 24), Jameela vented on Twitter along with a screenshot of Cardi's promo:
"They got Cardi B on the laxative nonsense 'detox' tea. GOD, I hope all these celebrities all s**t their pants in public, the way the poor women who buy this nonsense upon their recommendation do," before adding, "Not that they actually take this s**t. They just flog it because they need MORE MONEY."
"If you want to 'curb your appetite' eat some damn green vegetables or have some nutritious natural vegetable soup," she stated. "Don't drink these 'detox' teas. You need fiber! Not something that honestly just makes you have diarrhea the day you take it and constipates you in the long run."
Her messy comment caught the whiff of Cardi B who responded on Instagram in her jokester way: "I will never s**t my pants cause there's public restrooms everywhere… ooo and bushes."
Jameela then responded via Twitter on Monday (Nov. 26): "She will never shit her pants, not because of bushes, but because she probably doesn't ever take the products she promotes... during her promotional video she keeps looking at the name of the product on the cup... almost as if she's never seen it..."
That's when the video post above hit social media on Tuesday (Nov. 27), continuing the funky feud.  
Are we the only ones in need of air freshener to clear up the stench of this back and forth sh*t? 
*shrug* Sorry, we had to.