LeBron James Sports $28K Louis Vuitton Fit During Opening Night of the NBA Season
The look featured a tweed jacket, briefcase with the brand's iconic signature logo, and a pair of trousers.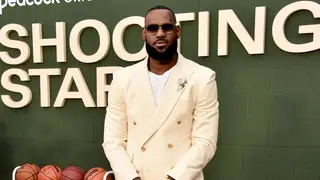 LeBron James is embracing his fashionable side.
During the Los Angeles Lakers' opening night game against the Denver Nuggets on Tuesday (Oct. 24), James stepped through the tunnel of Ball Arena in Denver dripping in both style and Louis Vuitton, as reported by TMZ. The $28,000 look featured pieces straight off the runway for the NBA legend.
The pricey ensemble included a $5,000 Damoflage motif print tweed collarless jacket and an $11,000 teal Speedy Bandouliere 40 that James wore across his chest. If you're thinking about copping this look to channel your inner LeBron, you might want to pump the brakes: According to Sports Illustrated, those items are not available for purchase until December.
James also wore a $1,250 pair of black trousers and checker derby shoes priced at $1,220. He rocked a $9,500 briefcase that showed off the brand's iconic logo.
If these items appear familiar, it's because some of them were featured in Pharrell's much-anticipated men's Spring-Summer 2024 collection that debuted at Paris Men's Fashion Week over the summer. The rapper/producer was appointed the brand's creative director in February.