Tyler Perry Vows To Help 93-Year-Old South Carolina Woman Save Home
The woman says the property has been in her family since shortly after the Civil War.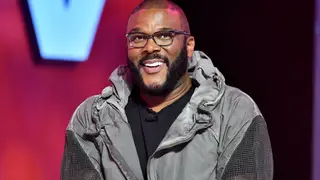 Ninety-three-year-old Josephine Wright says that developers are harassing her with a "frivolous lawsuit" intended to force her to sell the home that has been in her family for generations.
"I've pretty much been a fighter all my life," the woman told WSAV-TV. "This house means it's a home, a place where I want to be at this age."
The property has been in the Wright family since just after the Civil War. Her husband was a Gullah Geechee Islander. His relatives escaped slaves and were freed by Union soldiers, according to the report.
Now, Bailey Point Investment Group is trying to develop 27 acres around the home and force the family off the land. But, Wright may have a powerful ally in media mogul, Tyler Perry.
Perry posted about Wright on his Instagram page, sharing her quote "'I've pretty much been a fighter all my life,' he added, "Well, that makes two of us. Ms. Wright, please tell [me] where to show up and what you need to help you fight."
Wright is a grandmother to 40, great-grandmother to 50, and great-great-grandmother to 16 and says that she is ready to fight for her family's history and their future, her granddaughter Charise Graves writes in a GoFundMe post set up to help Wright with her legal expenses. The effort so far has garnered over $144,000 of a $250,000 goal, including a reported $40,000 from Kyrie Irving, the donations list shows.
Bailey Point Investment Group is suing Wright and her former daughter-in-law Dolores who is the co-owner of the house. Dolores told WSAV that the construction forced her to move away.
Bailey Point is alleging that Mrs. Wright's porch sits on its property. She has already moved a shed and a satellite dish. The company is trying to build a 147-unit development. The developer previously offered to buy Wright's home--she says that when she refused, they retaliated with harassment.
"I guess they figured I would become so unnerved with the harassment that I would say take it. But they don't know me. I am here to fight for what I have," Wright told the news station.
Besides Perry, Wright has the support of former State Rep. and author Bakari Sellers and other neighbors and supporters, many of whom are her relatives, according to the Island Packet.
"We sent a letter two weeks ago simply asking the developer to communicate. Simply asking the developer to speak to us. Speak to her. Just to have a common conversation about how to move forward," Sellers writes. "I think more disrespectful than a no is a non-response.
"We are very big on generational wealth, or trying to accrue it," Sellers continues. "When you talk about poverty in our communities it's because we don't have land, and when we do, people want to take it away. There are a lot of people to pick on," he added. "Pick on me. Don't pick on a 93-year-old woman who has lived her life doing nothing wrong."