Lindsay Lohan Accused Suge Knight's Son in Theft
Troubled actress no longer the target of a burglary investigation.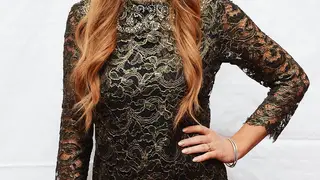 Lindsay Lohan was almost, again, caught up in another scandal, this time claiming to have been framed in the theft of $100,000 of watches and sunglasses.
According to TMZ, Lindsay  is no longer a suspect in the burglary, which occurred at the lavish home of Sam Magid, a good friend of Lohan.
But on Monday, Magid told police he spoke with two of Lindsay's friends, one of whom was Andrew Knight, a man who reportedly claims to be the son of Suge Knight. The friends explained that the night of the theft Lindsay had handed them a bag with two or three pieces of the stolen items wrapped in her shirt. 
After they returned items to Magid, he discovered other items were still missing.
Finally contacting Lohan, Magid said the troubled actress told him she had hidden some of the other items around the house because she was afraid they would be stolen by burglars. 
TMZ reported that Magid told the police Lindsay confessed she was on Ambien at the time she hid the jewelry and was hazy about exactly what happened.
Later Lohan began fingering Knight as the actual thief.  Knight strongly denied the accusation. Initially, the police didn't believe Lohan's claims, making her the primary suspect in the case. But because of insufficient evidence, the actress will not be brought up on burglary charges. 

BET.com is your #1 source for Black celebrity news, photos, exclusive videos and all the latest in the world of hip hop and R&B music.
(Photo: Andrew H. Walker/Getty Images for A&E Networks)