Virginia Town Settles Lawsuit From Army Lieutenant Caron Nazario's Pepper Spray Traffic Stop in 2020
The lawsuit was filed by the Virginia Attorney General's office alleging discrimination by the local police authority.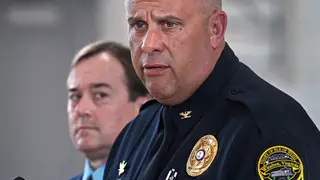 A lawsuit filed in the wake of a shocking police incident in 2020 has been settled by the Virginia Attorney General's office.
The incident occurred mere months after the police murder of George Floyd and in the wake of national protests against police violence. Body camera footage showed  Windsor, Virginia Police Department officers Joe Gutierrez and Daniel Crocker with guns drawn, demanding U.S. Army Lt. Caron Nazario get out of his black SUV after a traffic stop at a gas station.
The officers then pepper-sprayed the soldier.
"I don't even want to reach for my seatbelt – can you please…. My hands are out, can you please – look, this is really messed up," Nazario told the officers.
The soldier was then forced to the ground and handcuffed.
The former attorney general of Virginia, Mark Herring, conducted a six-month investigation into the Windsor Police Department and discovered discriminatory practices in their traffic stops, according to USA Today. 
The lawsuit will result in more officer training as part of a settlement agreement signed Thursday, Sept. 7. In return, the town will not be held liable for violating Nazario's civil rights.
"Police are the only government entity that has a monopoly on the use of force in American society, so it's important that they be good stewards of that responsibility and strive for excellence in the administration of justice. Excessive use of force and violations of constitutional liberties will not be tolerated in Virginia," current attorney general Jason Miyares said.
Nazario sued the police department for the assault during the traffic stop incident and requested $1.5 million in damages. In a shocking turn of events, the federal jury sided with Nazario but only ordered the officers to pay $3,685 in compensation.