Keke Palmer Makes Boss Moves During Atlanta Film Festival As First-Time Director
The versatile performer talks about the festival's 47th year and earning the high honor named for film legend Ossie Davis.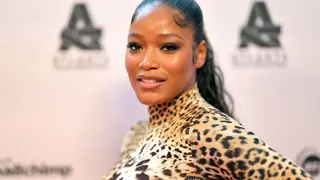 The 40-minute visual album she wrote, produced, financed, and starred in chronicles her journey coming-of-age from Chicago into surviving and persevering through a highly toxic, male-dominated music industry. In the process, the hard-working star famous for roles in Akeelah and the Bee, True Jackson, VP and Nope learns to embrace and accept love and support from those in her inner circle, mainly her mother.
The musical combines the Emmy-winning hyphenate's narration, audition tapes, home movies and clips spanning her dynamic film and television career with imaginative vignettes, dream sequences, and synchronized choreography routines in an effort to showcase her rising above second-guessing and doubting herself. Seen by a euphoric packed house at the Rialto Center for the Arts, Big Boss will permanently air on KeyTV Network, Palmer's free digital content channel that syndicates on Facebook and YouTube, beginning May 12
"It definitely gave me a lot more of an understanding for the people that I've worked with," Palmer, 29, said, arriving at the premiere dressed in a cheetah-print catsuit. "There's a lot more going on than just being the talent, but it was an amazing opportunity and a lot to take in."
"I want everybody to see it and get an opportunity to check out some of the scripted and unscripted content we have," Palmer added. "I'm excited to share it with the world and very thankful for the festival for allowing me a moment to shine."
Big Billy Clark, Palmer's music manager and one of Big Boss' producers, encouraged the singer and actress to make a long-form visual to roll out the album, also titled Big Boss, over two years ago. Palmer, who signed her first deal under Atlantic Records as a preteen, was strictly concentrating on making music on her own terms.
"For many years I felt like I couldn't do that," the multiple NAACP Image Award winner said. "The record labels kinda beat me down and made me feel like I had to be somebody else. I couldn't be myself and share what was unique to me. Billy was pivotal in allowing me to not think about the way I always thought I had to do it but think about the way that I could do it."
"Creating this project was a true labor of love," Clark, an A&R executive at Atlantic when Palmer originally signed, added. "It's a truly inspiring film about her overcoming something much bigger, and I hope everyone enjoys it."
Grammy-winning hitmaker Tricky Stewart came on as Big Boss' executive music producer. The Chicago native was responsible for Beyonce's "Break My Soul," Rihanna's "Umbrella" and Mary J. Blige's "Just Fine" and regularly engaged in conversation with the host of the podcast Baby, This is Keke Palmer about what she was going through. He incorporated those recurring themes around independence, strength and overcoming the past into the songs.
"He looks at everything that's going on around and figures out how to compile it and make it one perfect thing," the new mother of an infant son said, calling Stewart "a true producer."
"When you get to work with someone like Keke who is putting so much time into her craft, it's rare that you find someone equally as strong in all of these different things," Stewart added. "Her voice reminds me of all of the classic singers that I've ever worked with."
Palmer, the co-founder of the nonprofit organization Saving Our Daughters, received the Atlanta Film Festival's coveted Ossie Davis Award for her contributions to entertainment and various causes that evening. Only the fourth recipient overall to receive the Phantoscope-shaped accolade since it was last handed out in 2007, the honor reminds the humanitarian of how her mother and father continue to reiterate to her the noble works that the late actor/activist contributed to the arts and social justice along with his late wife, actress Ruby Dee.
"This is huge," Palmer said. "Growing up, my parents always said there's more to being a Black entertainer. You gotta really bring something to it, say something to your community, and use your platform for more. I definitely try to do that in the work that I put out there in the best way that I can."
Palmer is set to appear in The Backup, a comedy produced by Kevin Hart's Hartbeat Productions, and Super Toys with Sacha Baron Cohen. In the meantime, the mother to a newborn son, Leodis "Leo" Andrellton Jackson, with boyfriend, Darius Jackson, is focused on setting an example and kicking down more doors for other young Black and brown creatives to follow.
"Our careers are made of moments, and this is special to me for so many reasons," Palmer said. "It always feels good to go, look around and see your community thriving in so many ways. The only thing that makes what you're doing real is you doing it and believing in it. It's about taking that and showing other people that they can do it, too."