Wendy Williams Says She's Stepping Away From Her Show To 'Focus On Her Personal And Physical Well-Being'
The 54-year-old is rumored to be experiencing problems in her marriage.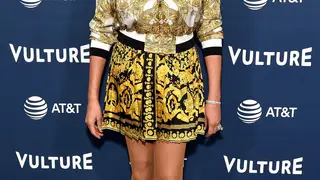 The 54-year-old announced her hiatus via social media and points to health concerns as the primary reason she needs some time off.
"As Wendy Williams Hunter previously shared, she fractured her shoulder and has been on the mend," her family wrote, which was shared as a picture via Williams' Twitter account. "Over the past few days, Wendy has experienced complications regarding her Graves' Disease that will require treatment. Wendy will be under the strict supervision of her physicians, and as part of her care, there will be significant time spent in the hospital. Despite her strong desire to return, she is taking a necessary, extended break from her show to focus on her personal and physical well-being."
The "personal" description many speculate has to do with reported rockiness in her marriage. Recently, it was rumored that Wendy Williams' husband, Kevin Hunter had cheated on her and even impregnated another woman. Williams and Hunter have since categorically denied those rumors.
Her physical health is reportedly two-fold. Williams is recovering from a fractured shoulder, but is also coming off of a bout with Graves' disease and hyperthyroidism, which she took a week off of to recover from in February 2018.
We're wishing Wendy Williams a speedy recovery and hope she can return to air as quickly as possible.