Lauryn Hill Teases 2023 Tour, Gets Onstage Surprise From Her Oldest Child During ONE Musicfest
Ms. Hill shut it down in Atlanta!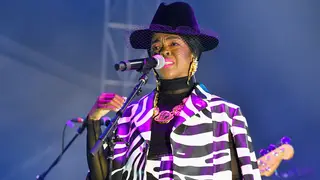 Lauryn Hill is looking forward to celebrating the 25th anniversary of the release "The Miseducation of Lauryn Hill," her breakthrough solo album and teased a Georgia audience with a possible tour during a performance over the weekend.
On Saturday (October 8), the 47-year-old artist rocked the house at ONE Musicfest in Atlanta. She hinted to a screaming crowd that in 2023– she 
may take her act on the road the celebrate the award-winning album.
"Atlanta, we love you so much. 25 years ago, so we gonna be back with those songs the way you can recognize them, ayyy?"
Julia Beverly posted the comeback surprise and captioned the video, writing, "Hands down the best Lauryn Hill show I've seen. Enjoy these clips from @onemusicfest that will definitely have you dusting off that Miseducation CD."
"She announced (last slide) that she will be performing "those songs the way you can recognize them" next year in honor of the 25th anniversary. (as a photographer, I just ask that they please put a spotlight on her on stage, lmao, backlighting killing me) One Musicfest also announced they'll be expanding next year with ATL + a Dallas festival."
To top off the rousing performance at ONE Musicfest, Hill got the ultimate  love after singing one of her biggest hits, "To Zion."
The mother of six was surprised by her now-grown son, Zion David Marley, following the emotional tribute. "To Zion" was based on her decision to keep her firstborn. They shared the sweetest hug before he exited to bring her grandchildren back on stage.