Several Homes In Montgomery, Ala., Black Neighborhood Vandalized With Racial Slurs and Swastikas
Law enforcement said the racial incident that took place in the neighborhood of Dannelly Pines on August 26 was a hate crime.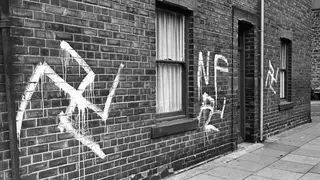 A predominantly Black community in Montgomery, Ala., was the target of racial slurs and swastikas were spray-painted on the sides of their homes on Saturday (August 26) morning, the Montgomery Advertiser reports.
Around 3 a.m. or 4 a.m. on Saturday, Otis Ramos said he heard his dogs barking outside and went outside to check the disturbance.  After coming outside to check on his dog, he noticed a swastika and a racial slur spray-painted on his home and his vehicle.
Ramos soon discovered that four other houses on his block also had swastikas and racial epithets spray-painted on them. Also, several other homes were vandalized in the neighborhood of Dannelly Pines.
Then the assailant broke the window to his children's bedroom, Ramos said.
"We're going through something right now, and not only are we going through something but a couple of our neighbors are going through something with us in 2023," Ramos said. "It's like you wouldn't expect it, but being Black you kind of understand, 'OK, well you don't expect it, but you expect it.' (At) the end of the day ... what's going to be done about it?"
After alerting the authorities, Ramos along with his wife Katrice, said the slow response of the police made them feel "unsafe" in their own neighborhood.
"Like I told the police, if you did something like that and get a slap on the wrist, what are you going to do next? At 4 in the morning, somebody's house is going to be on fire?" Ramos said.
In an email on Sunday, Montgomery Police Department spokeswoman Maj. Saba Coleman confirmed Sunday the incident has been characterized as a hate crime in its investigation.
"We are looking at the act as a hate crimes violation and will complete a thorough report with all pertinent facts for presentation to our federal partners," Coleman's email read.
"My concern is safety. If he did it last night and he's not arrested today, he's still a clear danger to everybody out there, so that's my concern. He needs to be off the streets tonight," Bell said.
Furlesia Bell, a minister at the Baptist Throne Church which is across the street from the Ramos home, shared how in the aftermath of the vandalism the entire community has been put into danger.
State Rep. Phillip Ensler, who is of Jewish descent, expressed his outrage over the vandalism and the community that was targeted.
"I am enraged by the white supremacist, racist images and words spray painted on personal, private property of residents in the Dannelly Pines area of Montgomery," Ensler wrote on Facebook. "I unequivocally stand against all crimes, acts, words, and displays of hate. I recognize the pain and anger this is causing so many in our community and I stand with them. I look forward to and appreciate law enforcement swiftly and thoroughly investigating. The culprit must be held accountable."
The incident in Montgomery is the latest example of how hate crimes have been on the rise over the last several years. According to a study conducted by the Leadership Conference Education Fund, a national civil rights group, hate crimes have been on the uptick since the 2008 election when Barack Obama became the nation's first Black president. At an alarming rate, hate crimes have increased by more than 80% since 2015 marked by Donald Trump's presidential campaign. Also, the study showed that 2021 had the highest number of hate crimes that were reported since 1991 when the FBI began publishing the statistics.
"What it shows is an extremely disturbing and sadly not so surprising trend," said Maya Wiley, CEO OF THE Leadership Conference Education Fund.
Earlier in August, the city of Mongomery drew national attention following a brawl that took place at the Riverboat Park where White passengers in a pontoon boat attacked a Black dockworker who was trying to make room for the incoming Harriot II to dock.
In the aftermath of the incident, five suspects have been arrested and been levied with several assault charges. No hate crime charges were brought as a result of the brawl.