Rashida Jones on Being Biracial: "I Have No Issues With My Identity"
The actress talks about the challenges of finding her place in Hollywood.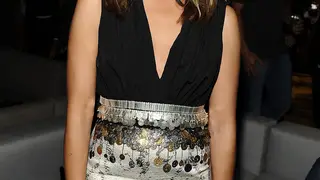 Rashida Jones is a double threat in more ways than one.
The actress and screenwriter, whose film Celeste and Jesse Forever is due in theaters next month, opens up to EurWeb.com about being biracial in Hollywood (she's Black and Jewish).
"It's more of a challenge for other people than it is for me," she says. "I have no issues with my identity."
The daughter of media mogul Quincy Jones and actress Peggy Lipton does admit that her Hollywood handlers had trouble categorizing her at first. "Other people think I should be settling into one thing or another, but I don't want to be limited," she says. 
"I spent so much time when I was younger being limited," she goes on. "I wasn't dark enough for some parts, or I was too light, or I wasn't quirky enough."
Now, the 36-year-old Harvard grad is one of the most promising talents in Hollywood, both in front of and behind the camera. After a breakthrough role in I Love You, Man, she landed a part in the NBC sitcom Parks and Recreation and created the comic book series Frenemy of the State, which is currently being adapted for the big screen with her as the star. 
Jones was also nominated for a 2011 NAACP Image Award for Influential Multiracial Public Figure.

BET.com is your #1 source for Black celebrity news, photos, exclusive videos and all the latest in the world of hip hop and R&B music.
Click here to subscribe to our newsletter. 

(Photo: Angela Weiss/Getty Images)