Ed Gordon Returns To BET: Former Anchor Talks About His Career, Personality Behind The Camera
The iconic face of BET News tackles reparations in the next 'America in Black' episode.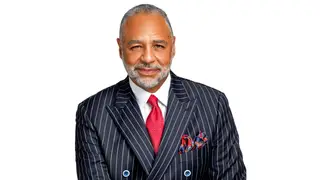 Ed Gordon has delivered another hard-hitting report for BET after an 18-year hiatus. He takes a deep dive into reparations on the next episode of America In Black, which airs April 2 across BET and CBS platforms. The first article in this two-part series previewed that segment.
Over the years, Gordon has showcased his ability to delve into complicated issues that matter to our community, in a career spanning decades. But he didn't set out to become a journalist.
As a kid in Detroit, Gordon said he was mesmerized by television lawyers who won their cases in dramatic courtroom scenes. But while his mind was set on becoming an attorney, his heart was elsewhere.
"There was just something about being a storyteller. I've always been one of those people who tells a fairly good story. Everybody at the family reunion would say, 'Skip (his nickname), tell that story,'" he said, also recalling that in junior high school he and his buddies would pretend that they were local newscasters.
Later, a professor saw a talent in Gordon and encouraged him to pursue a broadcast journalism career. After graduating, he landed an unpaid internship at the local PBS affiliate in Detroit and worked his way up from there.
As a young reporter at major networks, Gordon said he relentlessly pitched stories that were important to the Black community, which usually fell on deaf ears back then – as it often does today.
"That's why a series like America in Black is so important. In mainstream newsrooms it's still difficult sometimes to get stories out that we know, as African Americans, are going on and bubbling under the surface of white America, but are very much important to us," he said.
Before becoming the iconic host of BET News, Gordon was a Detroit correspondent for the network, which didn't have a full-time anchor in the early 90s. Gordon said he had "the gumption" to fly from Detroit to Washington, D.C. on his own dime to meet his BET bosses and tell them that he's their guy when they're looking for a new anchor.
He found out later that they were going to hire someone else before he dropped his name in the hat.
"You know, it's been a great thrill for me to be known, even 30 years later, as the BET News guy or 'Mr. BET,' or whatever they tend to call me. And to this day, people still identify me that way," Gordon said.
"So, I guess it'll be part of my epitaph, and certainly part of my obituary, when they get rid of me for good. But I'm proud to have represented not only BET but also representing Black people. And that's what I've been most proud of."
During his storied career at the network, Gordon conducted numerous high-profile interviews. But the person who stands out the most in his mind was Nelson Mandela. Gordon, who said he's seldom awestruck by interviewees, recalled feeling something special about the iconic South African freedom fighter.
"There was something different about that man," Gordon said. "Meeting him and getting to know him over the years has made that the first and foremost interview for me because he was such an extraordinary individual."
But the interview he's most asked about – even by people who weren't born at the time – was with legendary rapper Tupac Shakur in 1994, Gordon said.
"I've tried to be that guy that young guys would watch on the news. They would come to me and say, 'Hey, man, I don't watch the news, but I watch you.' Sometimes they only watched because they wanted to see what I was wearing," Gordon said when asked about his contribution to Black journalism.
He added, "There were older people who had never seen a Black anchor, and they were so proud to have lived long enough to see me in that seat because they saw me with the president, or they saw me in the middle of a huge news story. And I always wanted to represent us in a way that made people proud."
Gordon said he's a much different person away from the news desk.
"People think I'm very serious. I'm not. I was two votes away from class clown in high school," he said, joking that he has a buddy who refused to watch him on TV because 'That ain't my boy.'
Folks can catch a glimpse of the more laid-back Emmy-winning broadcaster on his nationally syndicated radio program, "Weekend with Ed Gordon." On the show, his passion for classic R&B comes through, as he plays and sings along to jams by Teddy Pendergrass, Jeffrey Osborne, Barry White, and many other smooth R&B virtuoses from the 70s and 80s.
"It's just really in my blood. I love music. I have no musical ability. I can't sing. I can't play an instrument.  I'm the guy that can tell you who was playing drums and produced [on a record] and all of that. So it's just a love of mine," Gordon said. "It is what I do to chill out. It's what I do on the weekends. I just love music."
The next episode of America in Black airs April 2. It is available across BET and CBS' platforms, including BET+ and the CBS News Streaming Network.