Black Detroit Man, 62, Headed To Ukraine: 'I'm Actually Going To Fight'
African Americans have 'a history of standing for what is right,' the U.S. Army veteran says.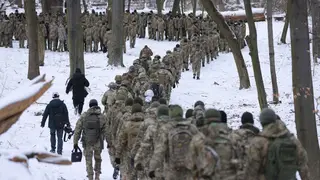 An African American veteran from Detroit joined the wave of foreigner volunteers traveling to Ukraine to fight alongside Ukrainian forces against the Russian invasion.
The Detroit Free Press reports that M. Dujon Johnson, 62, was scheduled to fly Wednesday (March 9) to Krakow, Poland before crossing the border into Ukraine to meet with groups organizing foreign fighters. Johnson, who served in the U.S. Army from 1977 to 1980, said he expected to receive a weapon and go into battle.
"As an African American, we have a legacy, a history of standing for what is right," Johnson said, noting that African Americans spoke out against 19th-century anti-Chinese immigration policies in the United States and against the anti-Semitism of Nazis during World War II.
He added, "When people hear about Black Lives Matter and voting rights, they think it's just for Black folks, but we've always stood up for what's right for all people. So I'm going there, because the concepts of democracy, freedom, being treated right, that's just part of our legacy. And I feel compelled to uphold it."
Johnson is far from alone. Russia's unprovoked attack on Ukraine ignited a global outcry and support. Along with humanitarian assistance, thousands of people have volunteered to fight for Ukraine. Ukrainian President Volodymyr Zelensky on March 3 said that 16,000 foreigner fighters have volunteered, The Washington Post reported.
Meanwhile, the invasion also set off a mass exodus from Ukraine. In the scramble to escape the bombings, there were widespread reports of racist discrimination by Ukrainian officials against people of African descent who are trying to flee the country.
Johnson is no stranger to Ukraine. The Detroit native said he served with the Peace Corps Response in Ukraine from 2018 to 2019. While there, he taught government and civic society at Cherkasy National University and Cherkasy State Business College.
The divorced father of six was a high school dropout who achieved academic success later in life. He graduated in 1995 from the University of Iowa with a focus on Asian studies and Chinese. Johnson went on to earn two law degrees, as well as a master's degree in Chinese studies and a doctorate in 2012 from National Sun Yat-sen University in China.