African Nations Condemn Racism Against African Students Attempting To Escape Ukraine
Reports are 'shockingly racist' and breach international law, the African Union says.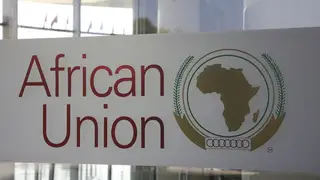 African nations are demanding an immediate halt to discrimination against their citizens who are fleeing Ukraine to escape Russian military aggression.
CNN reports that diplomats from Kenya, Ghana and Gabon condemned reports of the racist treatment of Africans at the Ukrainian border during a meeting Monday (Feb. 28) at the United Nations headquarters in New York.
"We strongly condemn this racism and believe that it is damaging to the spirit of solidarity that is so urgently needed today. The mistreatment of African peoples on Europe's borders needs to cease immediately, whether to the Africans fleeing Ukraine or to those crossing the Mediterranean," Kenyan Ambassador to the UN Martin Kimani said.
On Tuesday (March 1), the UN High Commissioner for Refugees Filippo Grandi said the agency observed instances of discrimination at the border, the Independent reports.
"There has been a different treatment (...). There should be absolutely no discrimination between Ukrainians and non-Ukrainians, Europeans and non-Europeans. Everyone is fleeing from the same risks," he Grandi said, adding that the UN plans to intervene to ensure equal treatment
According to CNN, Ukrainian border authorities initially denied the allegations of racism and mistreatment of Africans.
But on Tuesday (Mar. 1), Ukrainian Foreign Minister Dmytro Kuleba appeared to acknowledge discriminatory practices against Africans on his country's side of the border. He tweeted, "Africans seeking evacuation are our friends and need to have equal opportunities to return to their home countries safely. Ukraine's government spares no effort to solve the problem."
Africans living in Ukraine, many of them students, say that Ukrainian authorities at the borders have beaten and pushed them to the back of long lines of people attempting to find safety in neighboring countries, The New York Times reports. They accuse the officials of prioritizing Ukrainians for border crossings while forcing Black people to languish in the cold without food or shelter.
The BBC reported the experience of a Nigerian student named Jessica. In a BBC news video, Jessica says she walked for at least 12 hours toward the Polish border. However, Ukrainian authorities prioritized the processing of paperwork for Ukrainians to cross ahead of her.
"They will push you; they will beat you," she said, adding, "If your skin is dark, you're at a disadvantage." Ultimately, she purchased a train ticket to Hungary, feeling fortunate to have the funds to buy her escape.
In his statement, the Kenyan ambassador thanked Ukraine's neighbors–Hungary, Poland, Romania and Slovakia–for permitting Kenyan citizens to enter their countries with a visa.
Ghanaian Deputy Ambassador to the UN Carolyn Oppong-Ntiri called on Ukrainian officials to stop the mistreatment and to provide humanitarian assistance, "including medical care in line with the principles of humanity, neutrality, and impartiality."
Gabon's UN ambassador, Michel Xavier Biang, said, "We ask for the respect of the dignity and for equitable treatment of all people in dire circumstances. It is an opportunity for my country to recall the African Union appeal for respect of international law that requires equal treatment for all people who cross international borders in conflict areas.'
The African Union, a bloc of 55 nations across the continent, said it is "following closely the developments in Ukraine and are particularly disturbed by reports that African citizens on the Ukrainian side of the border are being refused the right to cross the border to safety."
"Reports that Africans are singled out for unacceptable dissimilar treatment would be shockingly racist and in breach [of] international law," the statement continued.
More than 80,000 students study abroad in Ukraine, according to data from Ukraine's Ministry of Education and Science. In total, more than 16,000 of those students arrive from Africa. Morocco, Nigeria, and Egypt are in the top ten countries with students based in Ukraine.