Dear White People Sparks Homophobic Reactions
Controversial film causes unexpected outrage over gay themes.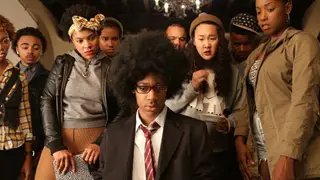 With its bold statements on race and class, Dear White People has had audiences talking since its debut at the Sundance Film Festival earlier this year, but the social satire sparked an unexpected controversy.
Eyewitness accounts from screenings of the film at both Benedict College in South Carolina and the University of Southern California in Los Angeles claim some audience members had surprising homophobic reactions to the film, which features Tyler James Williams as a gay college student as one of its main characters and plotlines.
A student at Benedict College writes about her experience watching the film with the football team from Morehouse College, a historically Black school, who were in town to play Benedict. According to the student, during an on-screen kiss between Williams and another actor, several of the football players "went into a frenzy — everyone turned on their phones and said they weren't looking, they started yelling, 'What kind of movie is this?'" Adds the student, "several of them walked out, others started yelling at anyone on their team for looking at the screen when the kiss happened."
Another firsthand account reveals a similar scenario at a screening of the film for USC's African-American Cinema Society and Black Student Assembly. Writes student Alex van der Hoek, "As [Tyler James Williams] had his first kiss, our audience let out clear reactions of disgust. My friend and I could not believe what we were hearing...When a second kiss came, the reactions were distinctly audible yet again." 
While the homophobic views of a vocal minority have caused an outrage, not everybody shares their views. A player for the Morehouse football team who was in attendance at the Benedict College screening later wrote, "As a student and football player for the Maroon Tigers, I was disturb [sic] by the reaction of my teammates during certain scenes of the movie. The remarks and outbursts were upright embarrassing and prejudice...We are sincerely apologetic that the loud embarrassing remarks were heard and not the intellectual discussion, which we also engaged in after the movie."
Of course, homophobia is not isolated to the Black community. All communities struggle with prejudices. Hopefully, Dear White People will spark an important discussion not only on race and class, but acceptance as well.
(Photo: Code Red Productions)