Damson Idris Says John Singleton Dropped Him Off In South Central For 'Snowfall' Audition
The series is in its sixth and final season.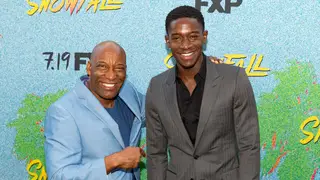 Damson Idris has starred in this FX series Snowfall for six seasons. However, to land the role of Franklin Saint, he had an unconventional audition.
While talking with Drew Barrymore, the actor revealed the late John Singleton, one of the FX show's creators, dropped him off in South Central, Los Angeles, for one of his auditions. "By audition number eight, Singleton took me to South Central, opened the car door, and said, 'If you survive, you've got the role.' And it really was an experience. I was walking around South Central, I had to stay in character, so I wasn't allowed to be British," the 31-year-old said while laughing.
"And, I said to his mother, 'Oh, how lovely your hair looks today. I'm just going to go and put this in a bin,' and she goes, 'John, he ain't from here, huh?' Nearly lost the part. But hey, six seasons later, here we are."
Singleton was extremely hands-on as director and producer of the series, which portrays the crack epidemic in the 1980s in Los Angeles. Snowfall is currently in its sixth and final season.
Singleton passed away in 2019. His other film credits include Poetic Justice, Higher Learning, Shaft, and Baby Boy; Singleton was also the genius behind Michael Jackson's iconic "Remember the Time" music video.
He was a trailblazer. He was the youngest person and the first African-American to ever be nominated for an Academy Award for Best Director for his work on the 1991 classic Boyz N the Hood. That year, he also scored a nomination for Best Original Screenplay.