Holly Robinson Peete Announces New Book, Podcast and Talks About Her Husband Proposing At Her Job
The actress and her husband also spoke to BET about courting and new-age slang terms they use.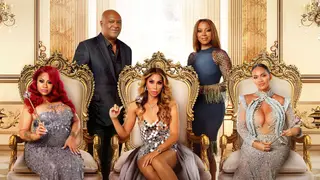 Will Packer's latest production, Queen's Court, features a star-studded cast including Evelyn Lozada from Basketball Wives, Nivea, and Tamar Braxton. The ladies, having had tumultuous public relationships in the past, participate in a new dating experiment where they live in a house with 21 suitors who will go to any length to impress them. The question on everyone's mind: will they finally find the man of their dreams this time around? Get ready for an exciting and dramatic journey!
BET.com chatted with the series hosts, Holly Robinson Peete and Rodney Peete, who have been married for over 25 years. We spoke to the couple about the series and their iconic marriage proposal at Holly's job, and they shared the upcoming projects they are working on.
BET.com: In the intro, you mention your love is worth fighting for. When is it not worth fighting for anymore?
Holly: When love isn't loving – when it's not real, authentic, mutual, reciprocated love. You can love someone who doesn't return it, so if you're not getting back the feeling or the same amount of love you're putting out, it's time to move on because that's not healthy love.
Rodney: If you're not all in, it's time to say goodbye. Holly always tells me it is 100/100 from each of us, not 50/50. You have to be 100% in.
BET.com: We need another book, Holly. I'm thinking of 100 rules from Holly Robinson Peete.
Holly: Oooh, I will get working on that right away. Me and [Rodney] do want to write a relationship book. People often ask us to tell them the secret sauce, and we will start a podcast. We don't know everything and may not have all the answers, but we have experienced a lot that can help others.
BET.com: I see you're picking up some of the new slang terms in the show. What's a new-age slang term that you love using the most?
Holly: I love saying "the most" or "doing the most." We now have four kids and their adults, so we hear things and question like "does cap mean lying or no cap means lying?" (laughs). We've been learning, and the kids are teaching us – I used to cringe hearing my mom saying, "that's the bomb." We try not to do too much, but I like many of the terms.
BET.com: The men must learn to court, date, or be with someone today. How do we fix that for people to sustain healthier dynamics with their significant others?
Rodney: That's a great question, and you're right, it is all about immediate gratification, and I want it now; say yes now, or I'm out; there's something to courting or pursuing a woman – it's sexy to seek a woman, call her out, and write her notes or even how Holly did me and avoid me for a while so I can keep on going to let her know I wanted her. We may need to get all of the quick-fix dating apps.
Holly: There's no mystery, and you don't get to discover someone – we used to talk on the phone for hours until the sun came up. You don't do that as much anymore – you see a lot of texting and sending photos. What I love about this show is they have to put their phones down and spend time with each other – look each other in the eyes and get to know each other.
BET.com: We all know Rodney pulled up on you at your job, dropped on one knee, and gave you a proposal that social media doesn't forget. As you look back at the moment, is the way he proposed everything you dreamed of?
Holly: I never dreamt of that – it was beyond my wildest dreams. He's so slick and set me up thinking he wouldn't propose. I was leaning hard – maybe too hard for him to propose. He set me up – we were ring shopping, and the guy gave me the ring to try on at home for a while. I walked out of the store with that rock on my finger – we were in Dallas at the time as he was playing for the Cowboys, and I was waiting for him to come home from practice every day with flowers to prepare to propose. It didn't happen, and I got on a plane back to LA – Rodney had the jeweler call me to ask about bringing the ring back, so I felt he didn't like me. Two weeks later, he showed up on the Hangin' With Mr. Cooper set and threw me off completely – I assumed he would break up with me.
Rodney: We had the whole crew on the show quiet – I don't know if you can do that today. Too many fingers and texting on social media – it would've been out (laughs).
BET.com: Finish this sentence. To gain everlasting love with the partner of your dreams, always remember to...
Holly: Be authentic, and don't try to be someone you're not.
Rodney: Always look her in the eye and confess your love to her.
Grab your loved one for a date night and stream Queen's Court on Peacock, premiering on March 16th.
---
*This interview has been edited for length and clarity
Ty Cole is a New York-based entertainment reporter and writer for BET.com who covers pop culture, music, and lifestyle. Follow his latest musings on Twitter @IamTyCole.