Justin Timberlake Apologizes For His Rendition Of D.C.'s Popular Dance 'Beat Yo' Feet'
Baby, what is you doing? 😂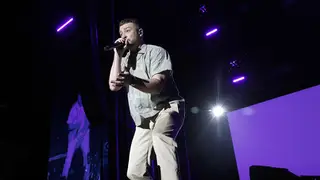 "Suit and Tie" singer Justin Timberlake took to social media to apologize to D.C. residents for his questionable rendition of the city's popular dance during a performance over the weekend.
Timberlake showed up to support the homie Pharrell's Something In The Water (SITW) music festival. When the former NSYNC member took to the stage, instead of rocking out the native D.C. dance– typically set to go-go–  he gave "youth pastor," keeping it jiggy realness while donning khakis, a baggy button down and gym shoes.
Trying to make fetch happen, Timberlake told the audience– as he busts a move and sang his hit "Sexy Back," "D.C., beat yo' feet!"
Black Twitter wasted no time clowning the 41-year-old entertainer.
"Beating Yo' Feet" actually looks like this.
Timberlake did repent for his rhythmically-challenged sins and apologized on behalf of his right and left feet in an Instagram story on Wednesday.
The District of Colombia mayor, Muriel Bowser, asked the city's residents if they should absolve the "My Love" artist for his dance moves.
It looks like Justin has learned from his mistakes.