National Action Network's Commitment March: 'Get Your Knee Off Our Necks'
On the 57th anniversary of the March on Washington, follow BET.com's live coverage.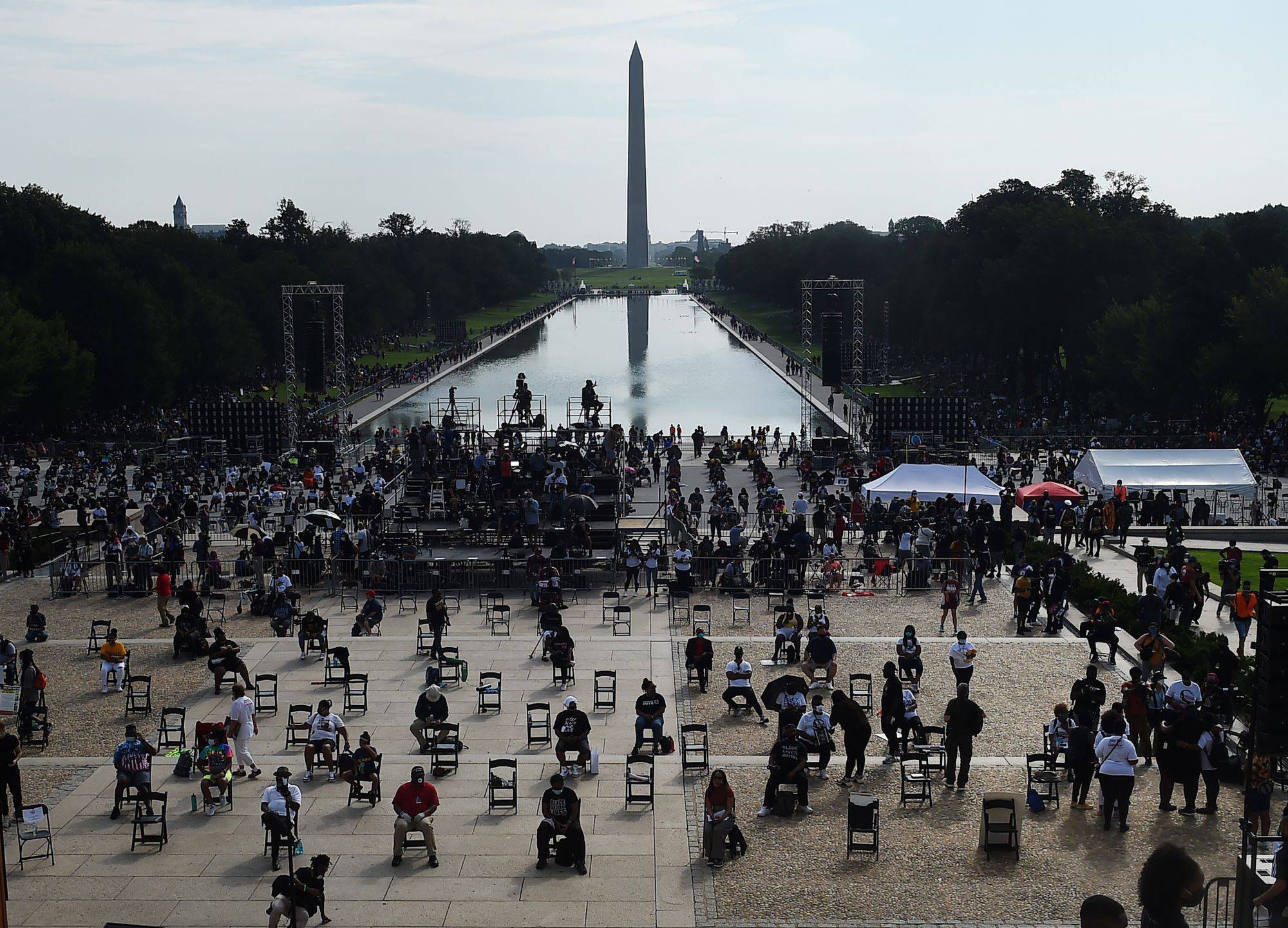 More Family Members Represent At Their March On Washington
2:30 p.m. ET: After Gospel legend, BeBe Winans, sang his single, "Black Lives Matter," Alisa Findley, the sister of Botham Jean spoke about the two year anniversary of her brother's death this coming September and finally receiving justice. Jean was killed by the hands of Amber Guyger, the former Dallas police officer who shot him as she entered the wrong home. 
 Next up was Wanda Jones Cooper, the mother of Amaud Arbery, who said, "God chose my son to be a part of this huge movement. I do believe if we continue to stand and fight together that we will get change. Sadly when we have these type of tragic events far too often, but I want each of you to please don't forget their names. Please let their names live forever."
Attorney Lee Merritt, who has advocated on behalf of many of these families also spoke at the March. "You cannot say Black lives matter if you don't believe in Black power," said Merritt who also gave a brief history lesson saying that "Abraham Lincoln didn't free the slaves, we free ourselves when we fight for ourselves." 
Sybrina Fulton, the mother of Trayvon Martin, came to deliver a message saying, "in spite of what we go through, be strong, be encouraged and dont stop saying Black Lives Matter and peaceful protesting. Stand together. We were built for this." She then quoted her favorite Bible scripture verse, Proverbs 3:5-6, "Trust in the Lord with all your heart and lean not on your own understanding; in all your ways submit to him, and he will make your paths straight. Trust in the Lord."
Eric Garner Jr., the son of Eric Garner challenged young people to go out and vote and spoke about the possibility of bringing about change. 
The mother of Oscar Grant, Rhonda Johnson, spoke about how "this race is not given to the swift nor to the strong but to the one who endures."
Maria Hamilton, the mother of Dontre Hamilton reminded the crowd that "the people have the power and we will show up on November 3rd to take our country back."
At the end, there were simply too many names of slain Black people who have died by police brutality or vigilante justice to allow everyone a chance to speak. Instead their names were read off as the crowd began to disperse and march from the Lincoln Memorial to the Martin Luther King Jr. Memorial. The following names were mentioned: Stephon Clarke, Michael Brown, Sylville K. Smith, Terence Crutcher, David Jones, Antwon Rose Jr., Montez Hambric, Emmanuel Lee, Tamir Rice, Nyles Arrington, Pamela Turner, Tony Robnson, and so many more.
BeBe Winans Brings March on Washington Crowd Today With Original 'Black Lives Matter' Song
2:35 p.m. ET: Gospel superstar BeBe Winans joined dozens of activists on stage in Washington during Friday's 2020 Commitment March and reintroduced his original song "Black Lives Matter."
Wearing a black coat and black gloves on the warm Washington D.C. day to symbolize solidarity with Black people who are frustrated with police violence, Winans was part of a group of thousands who came to demand social justice.
Released in July, Winans said that he wrote the song after the death of Freddie Gray, a 25-year-old Baltimore man who died in the custody of police in 2015.
Families of Those Slain Speak At the March On Washington
1:36 p.m. ET: After Rev. Al Sharpton's keynote speech, several families of those who have been affected directly by police brutality spoke to the crowd sharing their pain and grief. 
First was Tamika Palmer, the mother of Breonna Taylor, the EMT worker who was shot and killed in her home. The police officers who killed her have yet to be charged since she was killed in March. The cries for action against them continue to be pushed.
"What we need is change and we are at a point where we can get that change but we have to stand together and vote," said Palmer after thanking the crowd. 
She smiled as she stood, listening to thousands of people in unison shout "Breonna Taylor...Say Her Name!" especially at a time when so many people are forgetting that Taylor's killer still remains uncharged.  
Palmer was replaced on stage by Philoneos and Brittany Floyd, the siblings of George Floyd, who were there today to speak about their own grief and loss. Their brother died on May 25 in Minneapolis after a police officer put his knee on Floyd's neck for nearly nine minutes while arresting him. 
Overwhelmed by emotion hearing the crowd shout his brother's name, Philoneos Floyd struggled to speak but was able to say, "I wish George was here to see this right now. That's who I am marching for."
"Change is happening right now because we are demanding it. Everyone here has made a commitment because they wouldn't be here for no other reason right now," said Brittany Floyd. She also asked the crowd "How will the history books remember you? What will be your legacy?" She implored people to continue to weed out the hatred in the world just as Dr. Martin Luther King, Jr. did 57 years ago. 
Both Floyd siblings spoke about their pain being reignited by the recent news of the police shooting of Jacob Blake, shot seven times in the back on Aigust 23 as he was being stopped by police in Kenosha, Wisconsin. Blake's father and sister were also at the march prepared to speak to the crowd. 
Letetra Widman, Blake's sister, also spoke where she pushed Black men and women together in the fight against racism and hatred She was joined by Blake's father, Jacob Blake Sr., who spoke about meeting Rev. Al Sharpton when he was just 7-years old. He didn't have any idea he would be meeting Sharpton again around these circumstances. Blake Sr. mentioned that there are two systems of justice in the United States: one for Black people and one for white people. 
"Guilty Guilty Guilty, racism against all of us!" shouted Blake Sr. 
President Barack Obama Issues Statement On Anniversary Of March On Washington
1:18 p.m. ET: President Obama issues a poignant message on the 57th anniversary of the March On Washington. Read his powerful message below. 
Martin Luther King III Invokes His Father, Calls For Continued Struggle

1:05 p.m. ET: Martin Luther King III brought a powerful message to the 57th Anniversary March on Washington calling for voting rights, demanding the end of killings of unarmed Blacks by police, while saying the names of some of those who have fallen victim and demanding justice for them.
"Today, we commemorate the March on Washington for Jobs and Freedom in 1963, where my father declared his dream. Now, 57 years later, we must march to the ballot boxes and the mailboxes to defend the freedoms that earlier generations worked so hard to win," King said just minutes after following his daughter, Yolanda at the podium, who had also spoken.
"There is a knee upon the neck of democracy and our nation can only live so long without the oxygen of freedom," King continued. "Our strength must be exercised by more than rhetoric and more than marching. The simple challenge before us, is that everyone who can cast a ballot, must cast a ballot.  And every ballot that is cast must be counted.  And the results must be transparent and known to us and the world.
King also remembered his father, who led the original March on Washington in 1963 and gave his famous "I Have A Dream" speech on the very steps on which he stood, as well as other luminaries in Civil Rights history.
"My father, John Lewis, Ella Baker, Rosa Parks, and many other heroic individuals envisioned an America whose democratic practice is as good as its promise," said King, whose father was killed in 1968 when he was just 10 years old. "An America where the triple evils of racism, poverty, and violence will be replaced by peace, justice, and shared abundance."
MLK's Granddaughter Energizes Crowd At March on Washington

12:40 p.m. ET: In an energetic speech, the only granddaughter of Rev. Martin Luther King Jr. rallied the crowd at the 2020 Commitment March on Friday (Aug. 28).
Yolanda Renee King, whose father is Martin Luther King III, called for her generation to galvanize in the struggle for civil rights.
"Great challenges produce great leaders," said Yolanda, 12. "We have mastered the selfie and Tik Tok, now we must master ourselves.
"Less than a year before he was assanistate my grandfather predicted this very moment," she continued. "He said we were moving into a new phase of the movement. The first phase was civil rights. The second phase is genuine equality."
Massachusetts Rep. Ayana Pressley Remembers Those Who Came Before

12:25 p.m. ET: Rep. Ayanna Pressley, speaking at the 2020 Commitment March, asked attendees to remember those in history that were unsung heroes.
"Today, I am thinking of the ancestors, not just the ones in the history books, but the ones omitted from those pages," the Massachusetts congresswoman said. "The justice seekers, the freedom riders, the organizers, the community builders, every loved one that packed a brown bag lunch, led a freedom song, risked their life and livelihood, that vaselined an elbow and sent up a prayer.
11:20 a.m.: The number of people gathering at Washington D.C.'s National Mall and in front of the Lincoln Memorial is growing as the 2020 Commitment March gets under way. Speakers from the Black Lives Matter movement and other activists are beginning to take the microphone from various movement.
According to CBS News, among the expected speakers will be: Tylik McMillian, youth coordinator, National Action Network; Rep. Sheila Jackson Lee, Marc Morial, president, National Urban League; Yolanda King, granddaughter of Martin Luther King; George Floyd family attorney Benjamin Crump; Rep. Karen Bass; Martin Luther King III; Rev. Al Sharpton, and the families of Floyd, Eric Garner, Jacob Blake and Breonna Taylor.
Sen. Kamala Harris Announces Her Participation In March On Washington
10:05 a.m.: As people begin to gather in Washington D.C. for the 2020 Commitment March on Washington, several political leaders are expected to join them, including Democratic vice presidential candidate Sen. Kamala Harris.
The California senator announced on Twitter that she would be joining Rev. Al Sharpton and the National Action Network in the event, which commemorates the 57th anniversary of the original March on Washington in 1963. She will reportedly be joining the event virtually.
"This moment is a reminder that we must always honor the sacrifice of the leaders who made that march happen," said Harris. "From the names we know like Randolph and Farmer, Young and King. To everyone who worked behind the scenes and sacrificed quietly, but profoundly, far from the lights of history.
The event is scheduled to get under way at 11 a.m. Friday at Washington D.C.'s National Mall and thousands are expected to travel from many parts of the country to participate.
Join BET.com as we follow the live coverage of the National Action Network 's (NAN) Commitment March: "Get Your Knee Off Our Necks" commemorated on the same day 57 years ago when Dr. Martin Luther King Jr. made his historic "I Have A Dream Speech" during the March on Washington. That event was a culmination of years of activism which ultimately led to legislation from the federal government like the Civil Rights Act of 1964 and the Voting Rights Act of 1965.
Just as it was back then, the Lincoln Memorial will serve as a backdrop to a thunderous call for action featuring Reverend Al Sharpton, Martin Luther King III, Attorney Benjamin Crump, the families of George Floyd, Breonna Taylor and Eric Garner as well as a number of speakers from social justice organizations, faith based groups, and those who have been impacted personally by police brutality and misconduct.