Dave Chappelle Asks San Francisco Audience "What The F*** Happened" During Recent Comedy Set
The actor also touched on why he doesn't feel rich.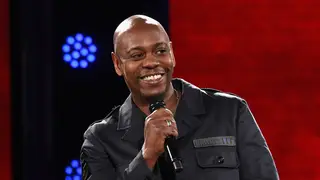 Last Thursday, Dave Chappelle gave fans in San Francisco a surprise concert, but fans may have been shocked by his remarks.
The comic is no stranger to performing in the city, reminding the audience he's done hundreds of San Fran shows in the beginning of his career, but the city doesn't look the same.
According to SGATE, a half-hour into the actor's set, Chappelle questioned "what happened" to the beloved city he used to know.
"What the f—k happened to this place?" the comic asked.
"San Francisco has become "half 'Glee,' half zombie movie."Y'all n***** need a Batman!"
Later in the show, a fan in the crowd asked Chappelle to say his infamous "I'm rich, b****" line" from the Chappelle Show, to which the actor declines, telling the fan he "doesn't consider himself rich," continuing to let the audience know due to how America treats Black people in this country, no amount of money will make him feel rich.