Keith Ellison Reflects In New Book On Derek Chauvin Prosecution In George Floyd Case
Minnesota's attorney general had sleepless nights because the video was not enough for a conviction.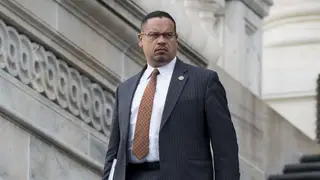 A new book from the prosecutor who oversaw the trial of the Minneapolis policeman held responsible for the death of George Floyd is shedding light on what it took to put him behind bars.

On May 25, 2020, a viral bystander video surfaced on social media showing a White Minneapolis police officer kneeling on the neck of Floyd, a Black man who was questioned by officers. The conflict was only over a counterfeit $20 bill, but he wound up handcuffed and face down on the ground, pleading for his life, gasping, "I can't breathe."
That May 25, 2020 asphyxiation death ignited nationwide protests of police brutality against unarmed Black men. Nearly a year after Floyd's death, the nation watched the televised trial that ended in a guilty murder verdict against former officer Derek Chauvin on April 20, 2021.
On Tuesday (May 23), Minnesota Attorney General Keith Ellison, who led the prosecution of Chauvin, released a behind-the-scenes book about the trial entitled, Break the Wheel: Ending the Cycle of Police Violence.
In his new book, Ellison says he had many sleepless nights, recognizing that the infamous video wouldn't be enough to convict Chauvin, according to the Minneapolis Star Tribune's review of Break the Wheel, in part a roadmap for how to prosecute police brutality cases.
Ellison reveals that Barry Scheck, a co-founder of the Innocence Project who was on O.J. Simpson's defense team, recommended that he focus on debunking the controversial excited delirium theory, often used to defend officers in police brutality cases. Officers are taught to look for "superhuman strength" and "police non-compliance" in suspects during an arrest as symptoms of the syndrome that could kill the subject, according to CNN.
One big source of worry was the testimony of Hennepin County Medical Examiner Dr. Andrew Baker who performed the autopsy on Floyd. Baker testified that Floyd, 46, had heart disease and drugs in his system, which contributed to his death.
Seizing on that testimony, defense attorneys argued that a drug overdose killed Floyd – not Chauvin's knee. They blamed fentanyl and a pre-existing heart condition for Floyd's death. The defense team also pointed to Baker's assessment saying, "If [Mr. Floyd] were found dead at home alone and no other apparent causes, this could be acceptable to call an OD (overdose)."
Ellison called Baker's comment "a gratuitous, unnecessary unscientific statement and he had me scared to death," adding that the doctor's comment was "just one of the first signs of the old pattern repeating itself: unarmed African-Americans being killed in custody while the system protected the officers from accountability."
In reflecting on the case, Ellison told NPR's Morning Edition he hoped that outrage over Floyd's killing would end police violence against Black Americans.
But after a grand jury in Ohio declined in April to indict the officers who fatally shot Jayland Walker and Memphis officers were seen on video beating motorist Tyre Nichols to death in January, there's still a lot of work ahead. Those cases show the urgent need for police reform legislation, Ellison said.
"We have not gotten to the point where we've arrested this problem. But I still believe that the George Floyd prosecution still offers a possibility if we muster the political will to bring it to a stop," he stated.