Brittney Griner Supports Inclusion Of Transgender Athletes
She says she'll be more vocal on trans people participating in sports, but at least one critic disagreed.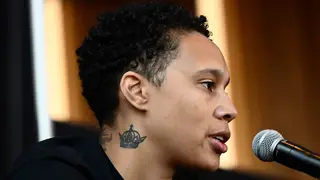 Phoenix Mercury star center Brittney Griner made her views public about the inclusion of transgender athletes in competitive sports,
Appearing at a press conference during the Mercury's training camp on Thursday (April 27), Griner came out in full support of trans athletes, The Spun reports.
"That ranks high on the list of things I'll be fighting for and speaking up against," Griner said. "Everyone deserves the right to play. Everyone deserves the right to come here, sit in these seats, and feel safe. And not feel like there's the threat, or they can't be who they are, or like it's just all eyes on them."
Griner went on to say that she believes that it is a criminal act to ban trans athletes from competing in sports.
"I think it's a crime honestly to separate someone for any reason. So, I definitely will be speaking up against that legislation and those laws that are trying to be passed, for sure," she continued.
Also at the media session, Griner said that she would not be returning overseas to play basketball during the WNBA off-season.
"I can say, for me, I'm never going overseas to play again unless I'm representing my country at the Olympics," she explained.

Despite her support for trans athletes, at least one person was vocal in their disagreement with Griner.

Riley Gaines, who tied for fifth place at the NCAA who tied for fifth place at the 2022 NCAA Women's Swimming Championship with trans athlete Lia Thomas, and has been outspoken against trans women competing in women's sports ever since.

"Which NBA team would have @brittneygriner since apparently the overwhelming, obvious differences between men and women should simply be overlooked," Gaines tweeted. "Heartbreaking to see athletically successful women take this demeaning stance."
After missing the entire 2022 season due to her imprisonment in Russia, Griner was released in a prisoner swap for international arms dealer Viktor Bout in December 2022.
In February 2023, it was announced that Griner is making her highly-anticipated return to the WNBA, signing a one-year, $165,100 contract to continue her tenure with the  Mercury.
Since joining the Mercury in 2013, Griner has been named to three All-Star teams, won two WNBA Defensive Player of the Year, and an Olympic gold medal.
The WNBA season will kick off in May with the Mercury set to take on the  Los Angeles Sparks on May 19.