Brittney Griner Finally Released From Russian Prison After Nearly 10 Months
President Joe Biden approved a prisoner swap between Griner and international arms dealer Viktor Bout.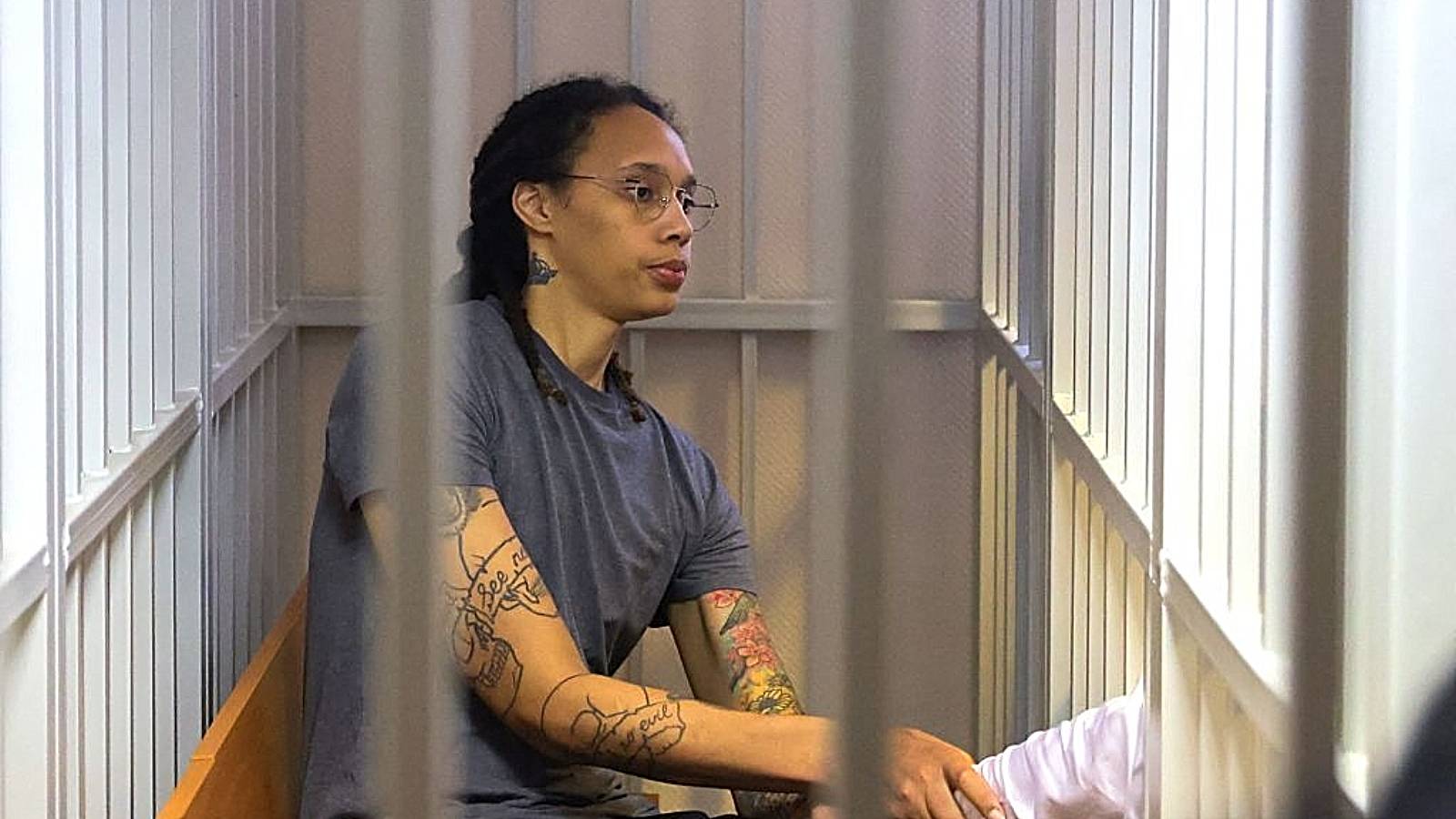 WNBA star Brittney Griner was released from a Russian prison on drug charges Thursday (Dec. 8) after 294 days behind bars on what the Biden administration classified as a "wrongful detainment" by America's former Cold War enemy.
CBS News reports that U.S. officials worked out a one-for-one prisoner swap for Viktor Bout, a Russian arms dealer serving a 25-year prison sentence in the United States.
U.S. diplomats were working with their Russian counterparts for several months to negotiate Griner's release. President Joe Biden gave a green light for the deal within the last week.
Speaking to reporters, on Thursday, he announced that Griner was en route back to the United States.
"Moments ago standing in the Oval Office with her wife Cherelle, I spoke with Brittney Griner," Biden said with Cheryl Griner, Vice President Kamala Harris and Secretary of State Anthony Blinken standin behind him. "She's safe, she's on a plane, she's on her way home after months of being unjustly detained in Russia, held under intolerable circumstances.

"Brittney will soon be back in the arms of her loved ones and she should have been there all along," he continued. "This is a day we've worked toward for a long time. We never stopped pushing for her release. It took painstaking and intense negotiations and I want to thank all the hardworking public servants across my administration who worked tirelessly to secure her release."
He tweeted a photo from the White House early Thursday.
Cherelle Griner, emotional but smiling as she stood with Biden expressed relief that the ordeal is now ending. 
"Over the last nine months you all have been so privy to one of the darkest moments of my life and so today I'm just standing here overwhelmed with emotion, but the most important emotion I have right now is just sincere gratitude to President Biden and his entire administration. He just mentioned this work is not easy and it has not been, there's been so many hands involved" she said, giving thanks to Harris, Blinken, National Security Advisor Jake Sullivan, and several others involved in the prisoner swap.

But noting that other Americans, including U.S. Marine Paul Whelan, who the U.S. government says is falsely accused by Russia of espionage, remain imprisoned in Russia. The two, she said, will "remain committed to the work of getting every American home, including Paul, whose family is in our hearts today as we celebrate BG being home. We do understand that there's still people out here who are enduring what I endured the last nine months of missing tremendously their loved ones."
Griner, 32, an Olympic gold medalist and center for the Phoenix Mercury was playing during the off season for UMMC Ekaterinburg with the Russian Premeire League when she was detained under charges of drug smuggling and possession when hash oil was found in her luggage at Moscow's airport when entering the country.

She was taken into custody amid fervent objections from the Biden Administration, which vowed to seek her release as well as that of Whelan's. In August she was sentenced to nine years in prison and subsequently moved from jail in Moscow to a penal colony in the western Russian region of Mordovia. An appeal attempt failed, leaving her chances of release uncertain.
All the while, U.S. government officials ranging from Blinken to former New Mexico Gov. Bill Richardson, who traveled to Russia to be part of the negotiations. In a call with reporters Thursday morning, a senior administration official said the negotiations became very narrow as far as options.

"It became clear in recent weeks that we had the choice of bringing Brittney home right now or bringing no one home," the official said.  "It was not a choice between which hostage to bring home."
But that also meant releasing  Bout, who had been in federal custody, convicted on conspiracy to kill U.S. citizens, trafficking in anti-aircraft missiles, and supporting a terrorist organization. He was not due for release until 2029, according to CBS News.
While it is unclear how close the U.S. government is to securing Whelan's release, on the call with reporters the administration official said that there is  "every reason to expect the channels to remain open" to free him.
"While we celebrate Brittney's release, Paul Whelan and his family continue to suffer needlessly," Blinken said in a statement released Thursday.  "Despite our ceaseless efforts, the Russian Government has not yet been willing to bring a long overdue end to his wrongful detention. I wholeheartedly wish we could have brought Paul home today on the same plane with Brittney. Nevertheless, we will not relent in our efforts to bring Paul and all other U.S. nationals held hostage or wrongfully detained abroad home to their loved ones where they belong."
Meanwhile, Griner was said to be in an "upbeat" mood when she met Special Presidential Envoy for Hostage Affairs Roger Carstens at the transfer point in the United Arab Emirates. That is where she spoke to Biden en route to the United States. She will be offered a number of resources that are intended to help her readjust to being home after such a long ordeal, the official said, without being specific. 
It is unclear if Griner, who is African American, experienced particular incidents of racism while she was imprisoned, but officials are waiting to hear from her any details of what she experienced while she was being held. The official said they will be listening intently when she is ready to share any such incidents.
She will finally be reunited with her loved ones when her plane lands in the U.S. late Thursday. As they anticipate her return, multiple people who have watched this case unfold posted their relief and support on social media.