Atlanta Mayor, Police Chief Speak Out Against Violence At Recent Protests
Downtown businesses were vandalized and a police car was set on fire.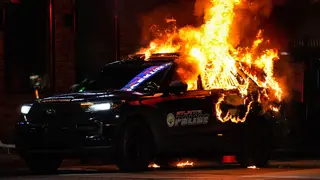 This weekend, Atlanta broke out into protests due to the construction of an Atlanta Public Safety Training Center, a $90 million police training facility. The project, dubbed "Cop City" by those who oppose it, was announced under former Mayor Keisha Lance Bottoms, and has been criticized as a method of militarizing police and will reportedly require 400 acres of Atlanta forest to be destroyed.
According to WXIA, on Jan. 21, protesters in the downtown area set a police car on fire and damaged businesses, including shattering the windows to a Wells Fargo bank. Six people were arrested, none of whom appeared to be African American, and charged with domestic terrorism, first-degree arson, second-degree criminal damage, and interference with government property, which are felonies. All but one have been released.
"It should be noted that these individuals were not Atlanta or Georgia residents. Most of them traveled into our city to wreak havoc," Mayor Andre Dickens said at a press conference. "My message is simple: to those who seek to continue this type of criminal behavior, we will find you and we will arrest you and you will be held accountable."
Atlanta Police Chief Darin Schierbaum also added, "It doesn't take a rocket scientist or an attorney to tell you that breaking windows and setting fires, that's not protesting, that's terrorism. They will be charged accordingly."
He continued, "We're very fortunate tonight that when the men and women of law enforcement responded none were harmed. No Atlanta Police officer, sheriff's deputy or state trooper have been injured tonight… "Every citizen of this city should know that when criminals arrive in Atlanta, Georgia they will be met by their police department,"